Mission accomplished? UK troops return to Afghanistan to bolster crumbling regime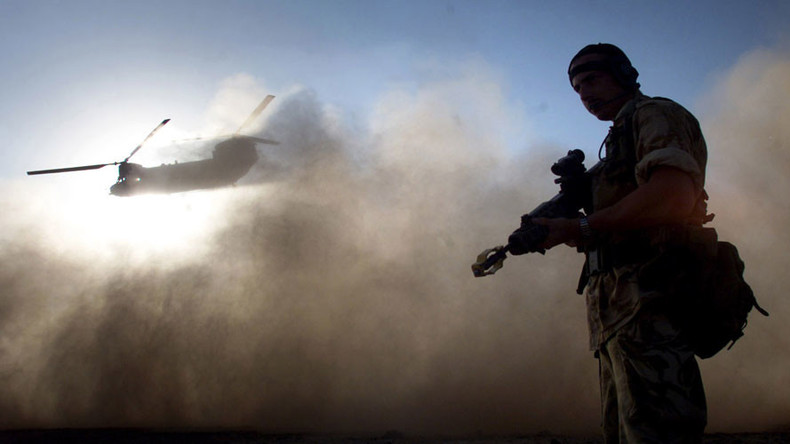 Less than three years after Prime Minister David Cameron announced 'mission accomplished' in Afghanistan, 100 UK troops are likely to be sent back to protect Kabul from a resurgent Taliban.
Defense sources told the Telegraph Thursday that the US had called on its allies to contribute more troops and that the UK was in discussion with NATO to settle on numbers.
The news follows a flying visit to Kabul by UK Defence Secretary Michael Fallon on Thursday. He reportedly met with Afghan leaders to discuss the resurgent Taliban's growing territorial gains.
In the southern province of Helmand, where the doomed British mission began in 2006, the Islamist group was reenergized by Western occupation.
The Taliban has since retaken or encroached into areas where hundreds of UK troops were killed or wounded, including Sangin, Lashkar Gah and the Kajaki Dam area.
"It's not a decision, but it is something that has been considered and still is. What we all do as an alliance in 2017 is fluid," an anonymous defense source told the Telegraph on Thursday.
In 2013, Cameron declared it was "mission accomplished" in Afghanistan as far as the UK was concerned.
There is currently a 450-strong UK deployment in Kabul whose remit is to train Afghan security forces. However recent reports suggest the military is badly depleted and afflicted with "ghost soldiering," wherein a person is officially on active service, but not actually present in the military.
Other Afghan soldiers are actively defecting to the Taliban. In an interview with CNN published April 12, two deserters explained their rationale.
"I did 18 months of army training and took an oath to serve this country," one man said.
"But the situation changed. The army let us down, so we had to come to the Taliban, who treat us like guests."
The other said he decided to leave the army when nobody came to take away his dead and wounded comrades from their base in Helmand.
"My army training is very useful now, as I am training Taliban fighters with the same knowledge," he added.
Writing on their media blog, the Ministry of Defence (MoD) said: "Afghan forces are taking a leading role in providing security for their country, supported by NATO.
"While we routinely look at the support we and other NATO partners give Afghanistan, no decisions have been made."