'Zero chance of coup': Military should be more involved in politics, says historian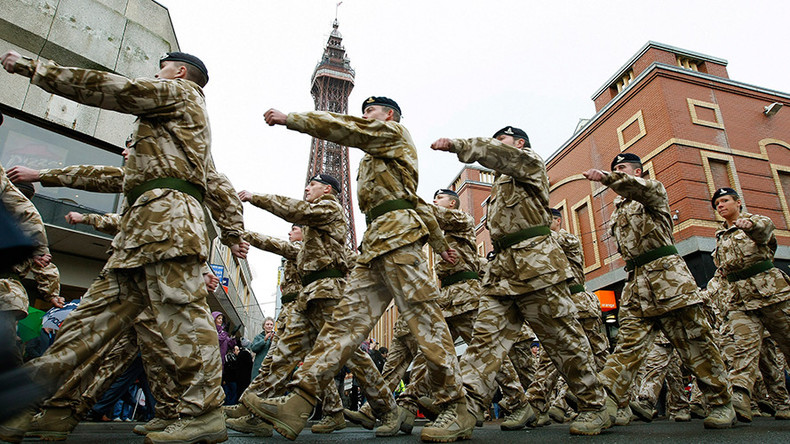 Britain should drop the notion of an apolitical military and generals should be involved in politics because there is "zero" chance of a coup these days, an esteemed military historian claims.
Professor Hew Strachan teaches international politics at the University of St. Andrews and is one of the UK's best-known military historians.
Writing for the Conversation website on Wednesday, he argued the idea of a clear line between state and military is an American idea and needed to be done away with.
Speaking about a book recently published by a former British NATO general and a series of spats between senior military figures and the government, he warned the current administration in particular "appears determined to silence senior officers."
"The expectation that soldiers should be silent is an import from the US, but one which Britain – like other democracies – has increasingly internalised," he wrote.
"It is somewhat bizarre that, as the probability of a military coup declines to zero, we behave as though any robust enunciation of military views challenges the core values of the state."
Strachan, who was knighted in 2013 for services to the Ministry of Defence (MoD), said although generals should stay out of party politics, comment on politics generally should be encouraged.
Up until the 1940s serving military officers had regularly been elected MPs, he added.
Strachan used the 2015 example of defence chief General Sir Nick Houghton, whose criticism of Labour leader Jeremy Corbyn on the basis of the lifelong socialist's pledge to never use nuclear weapons "was right."
He said Houghton, as "principal strategic advisor to the government," would "have been wrong to say anything else."
Strachan did not mention in his intervention the apparent threat of a coup made by an unidentified serving general in 2015 in relation to a possible general election win for Labour's Jeremy Corbyn.
The general told the Times newspaper in September there could be "direct action" and that "there would be mass resignations at all levels and you would face the very real prospect of an event which would effectively be a mutiny."
"The general staff would not allow a prime minister to jeopardize the security of this country and I think people would use whatever means possible, fair or foul to prevent that. You can't put a maverick in charge of a country's security."
Following a subsequent Freedom of Information (FoI) request it transpired the military had been unable to identify which of its general had made the comments.
This excuse was later written off by former SAS soldier Ben Griffin, who pointed out that the UK could simply ask its electronic signal spy agency GCHQ to identify the individual.
"GCHQ collect the metadata of all phone calls and emails so they will have a record of which generals have been in touch with the journo who wrote the story," he told RT at the time.