Plan for official Jewish area in north London could create a 'ghetto,' critics say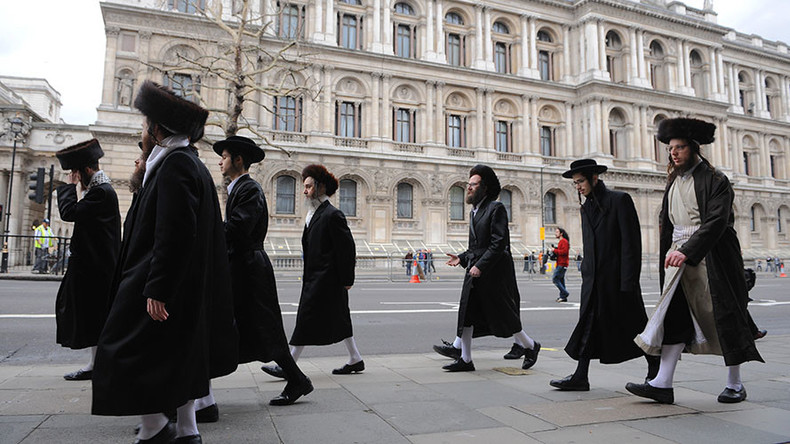 Plan to install a six-mile perimeter around an area of North London to help Orthodox Jews avoid Sabbath restrictions could create a "new ghetto," critics of the move argue.
The proposal, submitted to Camden Council by a group of local synagogues, asks for permission to construct an "eruv" – a symbolic boundary in which rules are relaxed, meaning observant Jews can carry keys, babies and spectacles, and use wheelchairs on the Sabbath.
If permission is granted, it will be constructed with pairs of 18-feet (5.5-meter) poles at 40 points around Camden, connected with a length of fishing wire, the Daily Mail reports.
The local architect of the plan, Daniel Rosenfelder, says the boundary, which would become one of Britain's largest eruvin, would make people "feel more part of the general community."
Jewish law forbids activities on the Sabbath, from nightfall Friday until the same time Saturday, which could be considered work – including the use of wheelchairs and prams, and carrying babies outside the home.
Rosenfelder says the eruv would simply allow those who are currently restricted to leave their homes on Friday nights and Saturdays.
Speaking to the Camden New Journal, he said: "At the moment, some people cannot leave the confines of their home on the Sabbath, especially wheelchair users and mothers with young children. It limits their lives considerably."
Rosenfelder says the eruv would benefit 6,000 people, be funded by private donors and be checked on a weekly basis to ensure it was still intact.
But there are concerns such a move could lead to "ghettoisation" of the area.
Proposals to construct an eruv in West Hampstead, which has since been put up, drew written objections.
One resident wrote: "Adding wires creates the idea of a ghetto in modern society."
Another criticised "outdated" Jewish laws on the Sabbath, and concerns were also raised that birds could be harmed by the fishing wire.
Other eruvs already exist in Britain, including in North West London and Prestwich, Greater Manchester.
Plans have also been submitted to construct eruvs in other areas of London, including Highgate, Brondesbury and North Westminster.
Rosenfelder says the success of eruvs in London and elsewhere show they do not cause disruption to communities.
"Once the poles are there, they are impossible to find. People don't notice them. The argument that it will destroy social cohesion – it hasn't happened in any city in the world. If anything, it makes people feel more part of the general community," he said.
You can share this story on social media: