Protesters chant 'no more refugees' & burn EU flag at pro-Brexit demo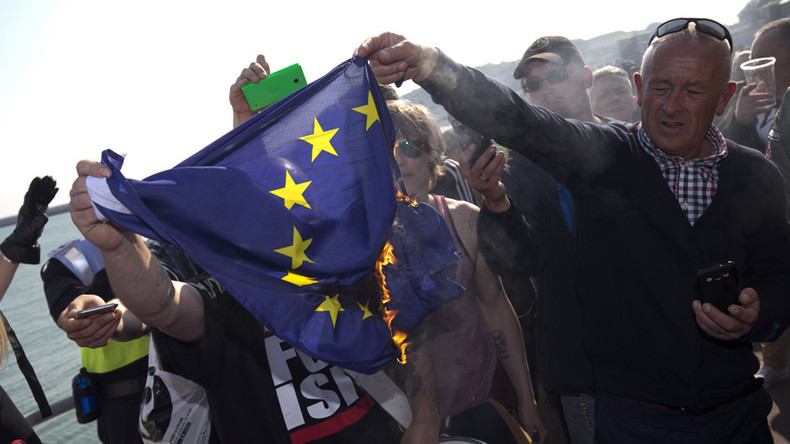 A group of British far-right demonstrators burned the EU flag during a rally in Dover, which also happens to be the UK's closest town to continental Europe.
The relatively small number of far-right activists marched along the town's seafront on Saturday while police officers surrounded the group, AFP reports.
Between a series of right-wing speeches at the Eastern Docks, the protesters burned an EU flag while encouraging people to vote to "Leave" in the referendum, which will be held on June 23 to determine if the UK leaves the 28-member bloc.
They also chanted "no more refugees" as the march commenced with one protester holding up an England flag with "Refugees NOT welcome" written on it.
READ MORE: Far-right poses greater threat to Britain than Islamist terror - report
Hundreds of police officers lined the streets outnumbering protesters, who were also met by a handful of counter demonstrators, but the march didn't see any arrests.
Conservative MP Charlie Elphicke said he hoped the low turnout of protesters on both sides would show they're not welcome in the port town.
Elphicke has been campaigning to see a change in public order legislation, which would give police the power to ban such demonstrations.
"The far right and far left are realising that the town doesn't want them and that officers will turn up with the correct amount of force needed to ensure proportionate, effective and appropriate policing," he told Kent Online.
Three left wing protesters stood with signs reading: "Decent people oppose fascists" and "Racism hurts everyone" during the day.
READ MORE: Arrests made after clashes at far-right and anti-fascist rallies in Dover (VIDEO)
Paul Pitt, a member of the South East Alliance, said the protest took place "against all odds" and blamed immigration for "what's happening to our country."
It's not the first time far-right protesters staged similar protests and burned the EU flag. In April, a larger march in Dover saw eight people arrested where members of the South East Alliance wore "FCK ISIS" shirt and called for Europe to "keep their foreigners."
READ MORE: #RefugeesWelcome beamed onto White Cliffs of Dover ahead of far-right demo
You can share this story on social media: