'Business as usual': Activists condemn G4S at AGM over Israeli human rights abuses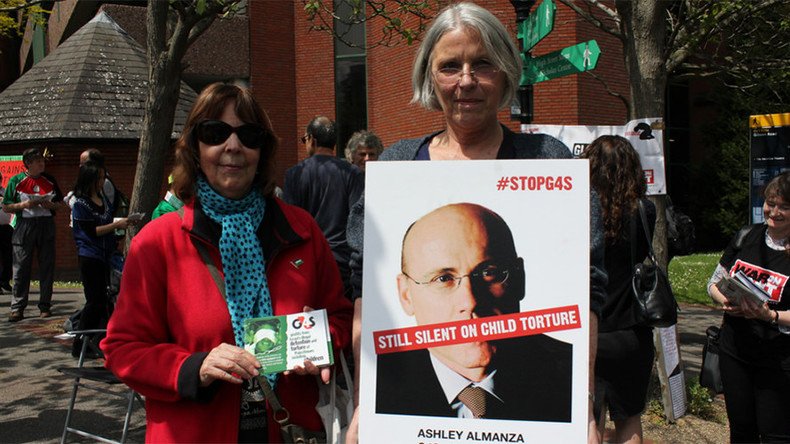 Activists gathered outside G4S' AGM in London on Wednesday to protest against the security giant's complicity in worldwide human rights abuses, particularly torture carried out against Palestinians.
The AGM kicked off at 12.30 BST in a small hotel in the south London borough of Sutton.
Shareholders making their way into the venue were greeted by groups of campaigners holding colorful placards decrying G4S' human rights record.
G4S' provision of equipment and services to Israeli prisons and the firm's supply of wares to military checkpoints scattered along Israel's separation barrier in the West Bank were focal points of criticism. G4S was also lambasted for entrenching violence against asylum seekers in Britain and profiting from global crises born of conflict.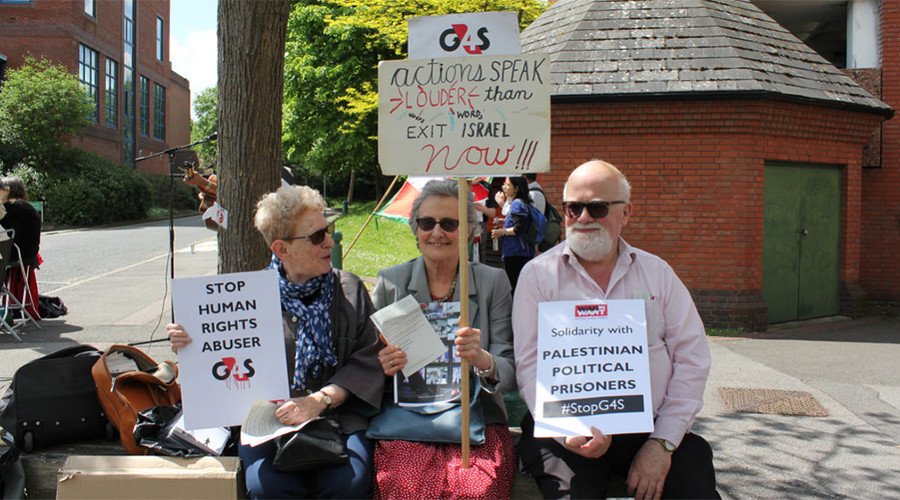 The detention of Palestinians in Israeli jails violates the Fourth Geneva Convention, which forbids the transfer of prisoners from the Occupied Palestinian Territories (OPT) to Israel.
While G4S pledged to end its involvement in Israel's controversial prison system last March, the security giant's actions do not reflect its rhetoric. The firm continues to supply services and equipment to jails across Gaza and the West Bank, where over 7,000 Palestinian political prisoners are detained in breach of international law.
Many are incarcerated without charge or trial and are routinely tortured, according human rights experts.
Key groups protesting at the AGM included War on Want, which campaigns against global poverty and injustice, and the Palestinian Solidarity Campaign (PSC), which works to defend Palestinian human rights in the face of Israeli military aggression.
Posters held by activists outside the AGM accused G4S of "globalizing injustice" and profiting from "Israel's illegal detention and torture of Palestinians." A separate placard read: "Actions speak louder than words. Exit Israel now!"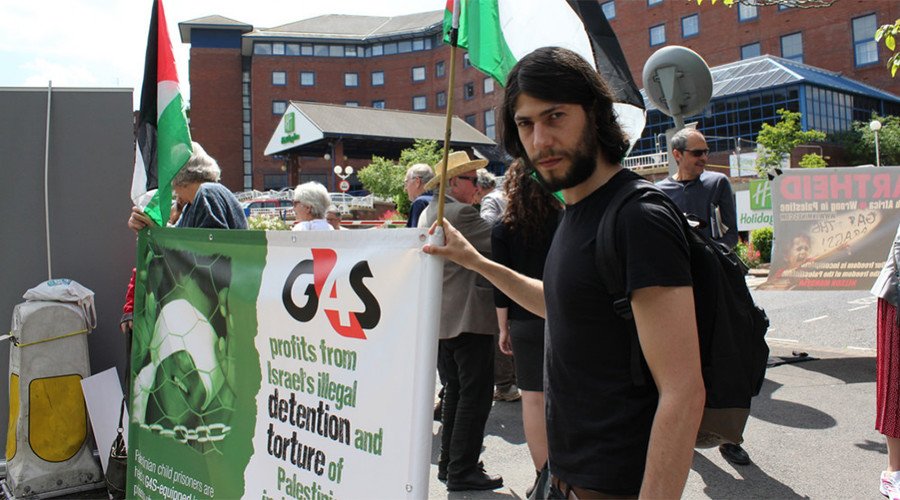 Speaking ahead of the meeting, War on Want Senior Militarism and Security Campaigner Ryvka Barnard criticized G4S for failing to sever ties with Israel's prison system.
"G4S has made similar promises in the past, under the pressure of public scrutiny, but has failed to take action on them," she said.
"Whether it's supporting Israeli oppression, stoking violence against asylum seekers in the UK or exploiting crises caused by wars, G4S has continued to rake in the profits with little regard for human rights.
"We've yet to see any evidence of these promises being kept as G4S continue to put their profits before the rights of Palestinians. Now is the time for G4S to walk the walk and uphold its legal and ethical responsibilities."
UK Campaigners have uncovered multiple cases of G4S complicity in human rights abuses at home and abroad. As a result, student unions, charities and universities across the UK have boycotted and divested from the security giant. They are calling for it to cease its complicity in human rights violations before any such boycott will be dropped.
A number of human rights activists who had bought shares in G4S in order to attend its AGM on Wednesday were denied entry on what they said were spurious grounds.
One such campaigner, Simon Morris, who was stopped by G4S security before he could enter the meeting, told RT the firm has backtracked on its commitment to divest from Israel. He also accused the security giant of pushing ahead with an ethically bankrupt attitude of "business as usual" in the face of mass human suffering.
RT asked G4S why UK citizens who had bought shares in the firm were turned away from its AGM. A spokesperson for the security giant refused to comment, but said he would inquire as to whether this was the case.
Asked whether G4S will heed public criticism and cease supplying Israel with equipment and services linked to human rights violations, he declined to comment.
Despite G4S' robust security, a select number of activists managed to make their way into the AGM. Challenged on the firm's links to Israeli prisons, G4S' Executive Director argued the British government does not back a boycott on Israel. He went on to assure shareholders that G4S would sell its Israeli operation if the commercial conditions were right.
You can share this story on social media: