Accepting Assad? Fallon's Syria policy coming unstuck as MPs question war aims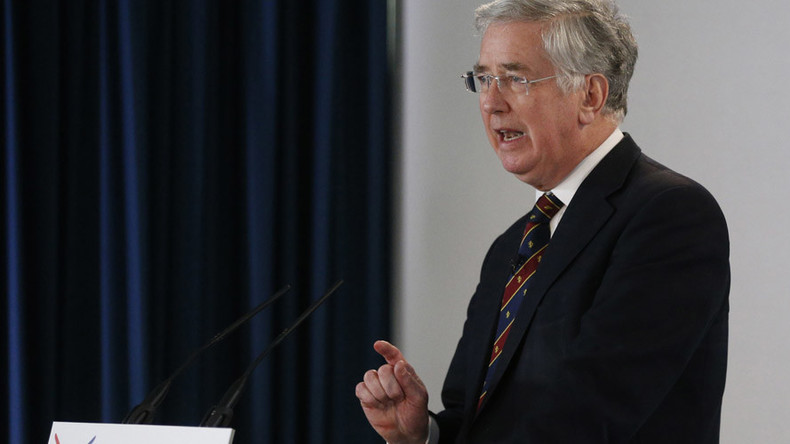 UK Defence Secretary Michael Fallon's Syria policy is under growing pressure amid rumors MPs may quietly favor a decentralized system of government in Syria which would weaken President Bashar Assad, but leave him in power.
Fallon is expected to give his first full assessment of the situation in Syria to the House of Commons on Tuesday.
It will be his most far-reaching speech on the topic since British MPs voted to extend bombing from Iraq into Syria in early December 2015.
The statement comes as reports circulate that, contrary to the British government's official position, MPs are in favor of a cantonment system in Syria that would trim Assad's power, but leave him in place.
It is thought ministers now believe such a system is the only hope for long-term stability in the war-torn country.
Fallon is also expected to announce that despite much clamor about British airpower capabilities at the time of the vote, a mere 42 bombs have been dropped on Syria.
Fallon may face a challenging two days. He is also due to appear before the Defence Select Committee on Wednesday to give further evidence on progress in the war.
"The UK must punch above its weight in diplomatic negotiations and stop [Russian President Vladimir] Putin dictating the state of play in the conflict," Liberal Democrat foreign affairs spokesman Tom Brake told the Guardian on Tuesday
Despite concerns over Assad's future, the UK's military focus remains on the Islamic State (IS, formerly ISIS/ISIL) for now.
"Closing in on Daesh [IS] in Raqqa [the group's de-facto capital in Syria] and on Mosul in Iraq will be a landmark event in the fight against Daesh," Brake said of the coalition strategy.
However, he warned "the international coalition must have a coherent plan" to avoid a humanitarian disasters like "Stalingrad" in the face of desperate IS attempt to "hold on to their warped self-declared caliphate."