'Racists not welcome here!' Britain First Brexit campaigners run out of Leicester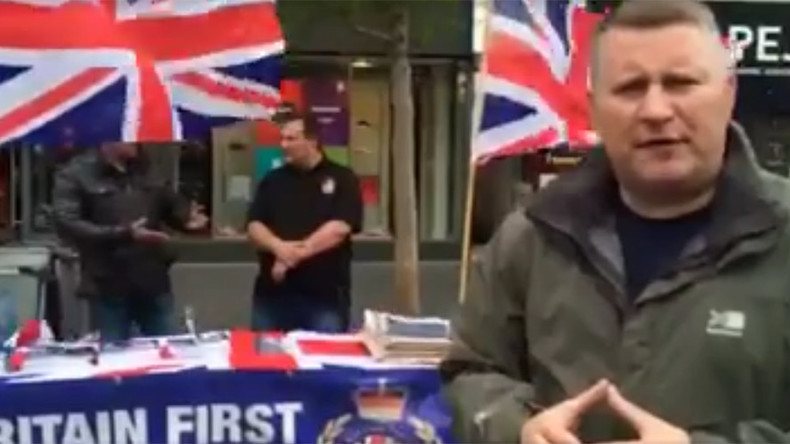 Far-right group Britain First attempted to promote the Brexit movement in Leicester on Saturday, but were forced to leave under police escort as crowds gathered to say "no" to their racist messages.
Britain First leader Paul Golding and about 20 associates set up a stand to hand out leaflets in favor of Britain leaving the EU in the June 23 referendum, the Independent reports.
In a video posted online by Britain First, Golding warned of the danger of an "EU empire superstate ruled from Brussels by unelected foreigners."
"That's what's at stake," he added.
However, an anti-fascist demonstration soon gathered to stage a counter-protest, outnumbering the far-right group fivefold. About 10 police stood in front of the Britain First stall to separate the two groups.
Video footage from the scene shows Golding arguing with people nearby, calling one woman "left-wing trash".
Britain First eventually had to flee the scene, escorted by police to get them through the crowd that had gathered.
The crowds chanted, "Racists, you're not welcome here!"
Many people brought up Leicester's recent Premier League victory to show the city is not divided, and to congratulate Leicester on both winning the league and saying no to racism. "First the football and now this. Leicester, you're pretty good!" one Facebook commenter said.
The Leicester Socialist Workers Party also shared their thoughts on the events in Leicester. Although they too support a UK exit from the EU, they explained: "[W]hen Britain First are using the referendum to spread racist lies we were mortified that they were in Leicester."
Britain First gave a different account of the day, hailing it a "successful day of action in patriotic Leicester" with "massive support".
"Local residents from all backgrounds came to our stall and took away mountains of literature," they said. "The day's only drawback was the appearance of a 20 strong group of unwashed, scruffy looking leftist bigots, fresh from a protest about badgers and also members of the anti-British Socialist Workers' Party."
The group promised to publish a "full and shocking video report which exposes these unwashed cretins".
The Britain First group is no stranger to embarrassing moments, from their halal slaughterhouse "invasion" last month, to poor turnouts at their events.
Britain First also suffered a bad result in the recent elections that saw Sadiq Khan become mayor of London. Golding, who came eighth with 1.2 percent of votes, turned his back while Khan gave his acceptance speech, inviting ridicule.
Deputy Britain First leader and slaughterhouse "invader" Jayda Fransen posted an emotional video following the London mayoral results.
"This is a very sad day, and I'm sure it's not what our grandparents fought for," she said, warning of the "Islamification of Britain" thanks to the mayor's "extreme and barbaric ideology."