Greenpeace activists scale British Museum columns in protest at BP sponsorship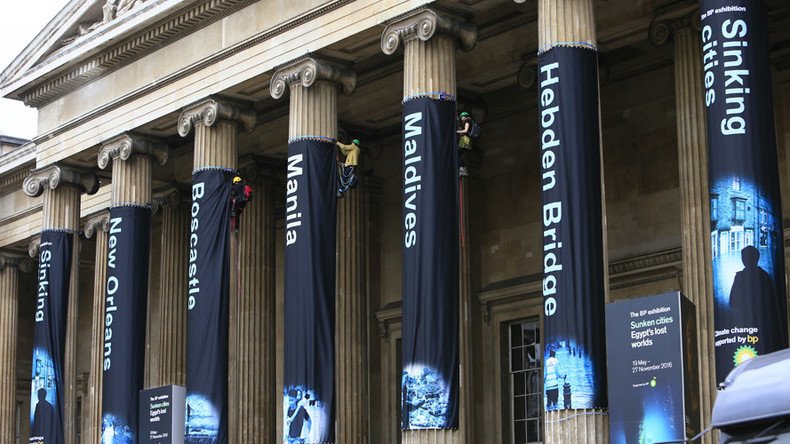 Greenpeace activists have scaled the columns of the British Museum in central London in protest against oil giant BP's sponsorship of a new 'Sunken Cities' exhibition.
Environmental protestors used climbing gear to scale a row of large columns at the front of the museum from which they dropped 27ft-long banners.
Several of the banners carried the names of towns and cities at risk of devastation or complete loss as a result of rising sea levels linked to climate change.
These included New Orleans, Manila, and the Maldives, as well as UK towns affected by severe floods, such as Boscastle and Hebden Bridge.
The action was targeted at BP's sponsorship of the Sunken Cities exhibition, which tells the story of two submerged ancient Egyptian metropolises now lying beneath the Mediterranean Sea.
Greenpeace campaigner Elena Polisano said it was a "stunning irony" that an oil giant like BP now has its logo on "an exhibition about cities lost to rising seas."
"Sunken cities aren't a thing of the past, they're happening now, and if BP gets its way they will come to define our future.
"Whole nations like the Maldives may disappear under water due to climate change. It's damaging to the Museum's reputation to shelter BP in this way," Polisano added.
Greenpeace claims the sponsorship allows BP to "clean up its image."
The protest comes weeks after the Philippines launched an investigation into BP, Chevron and ExxonMobil for potential human rights violations caused by fossil fuel-driven climate change.
A BP spokesman said: "BP has a long history as a major supporter of arts and culture in the UK and we are proud to have partnered the British Museum for 20 years, supporting significant exhibitions such as the new Sunken Cities exhibition."
The British Museum did not comment on its relationship with BP, but said on Twitter the museum was closed "temporarily for visitor safety reasons."
On its website, the museum describes BP as one of its "longest standing corporate partners."
You can share this story on social media: