Commandos jailed over 'depraved' waterboarding, vomit & urine initiation ceremony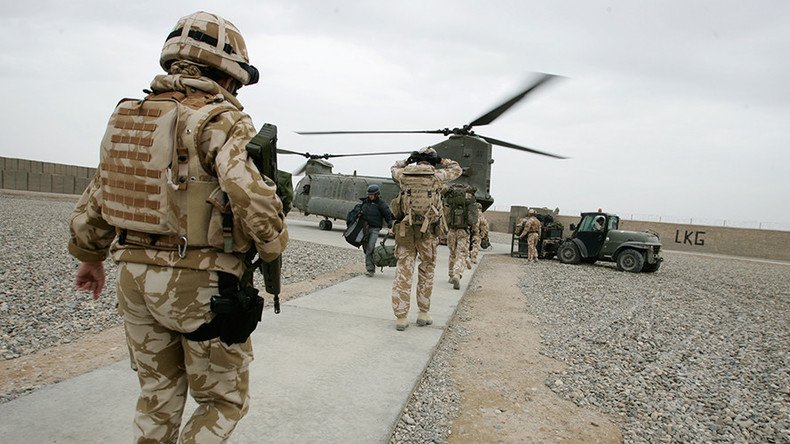 Three elite Royal Marines have been jailed for subjecting new commandos to a "depraved" ordeal which included waterboarding and drinking a mix of urine and alcohol from a paddling pool.
Marines Ian Tennet, Scott Simm and James Taylor were all sentenced to custodial sentences for mistreatment of a subordinate at Portsmouth Naval base's court martial center.
Tennet was given 11 months while his two accomplices were given eight months each for carrying out an initiation ritual witnessed by dozens of other service personnel at Royal Marines Condor base in Scotland in 2014.
A fourth commando, Ryan Logan, was ordered to complete 220 hours of community service.
Judge Advocate Robert Hill said the ordeal had been "40 minutes of depravity and naked humiliation" for the victims.
"The suggestion has been made it was nothing more than a rite of passage, and its purpose was not to humiliate, harm or distress but to harness bonding, and is something all Royal Marines Commandos have gone through," Hill said.
"But it's no more than conduct that brings disgrace on the commandos involved," he added.
Carlo Nicholson, who has since left the Corps, spoke at the hearing of the ritual's impact on him. He said he had been bombarded with eggs, forced to eat dog food and made to lie in a paddling pool full of vomit.
Logan then "waterboarded" Nicholson, though he was not involved in the other offenses.
Nicholson said: "The incident has left me feeling like I just want to be alone and I am pushing people away. This includes my girlfriend and daughter.
"As a direct result I have been having suicidal thoughts," he added.
A spokesperson for the Marines told the BBC the incident was being probed and that "bullying, harassment or abuse of any kind is contrary to the culture, values and ethos of the Royal Marines and, as we have seen today, will not be tolerated."
You can share this story on social media: