11K extra deaths by 2030? UK accused of diluting tougher EU limits on air pollution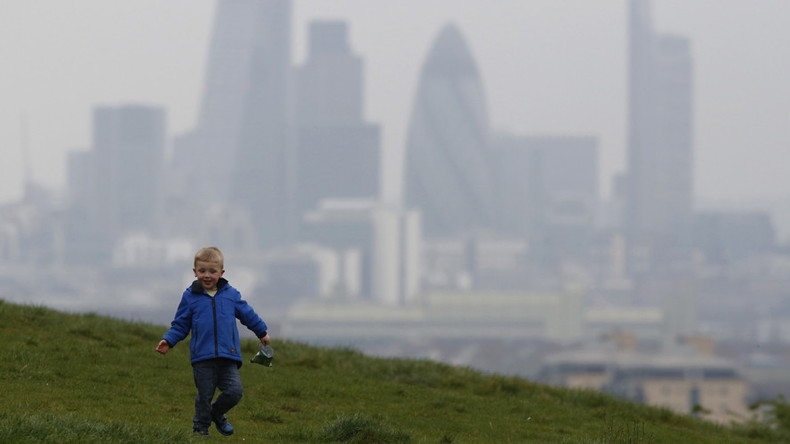 The UK government has been trying to "secretly water down" new EU air pollution targets in favor of business, the Observer reported, citing leaked papers allegedly revealing Tory MEPs were advised to support a "get-out clause" in the proposed legislation.
Junior Environment Minister Rory Stewart has advised Tory MEPs that the government does not believe the proposed ceilings on emissions are "proportionate, deliverable and evidence-based and do not impact disproportionately on any one sector," it emerged in a leaked note.
He also allegedly insisted that Tory MEPs support an amendment that would give the UK "flexibility" and allow big businesses to "adjust their inventory."
The Observer quoted the Liberal Democrat MEP for South East England, Catherine Bearder, as saying that the move, which allowed the government to ignore the damage done by high-emitting sectors, namely the car industry, was a major blow to the EU legislation.
"It seems no lessons have been learned from the dieselgate scandal. This shameful get-out clause could allow authorities to turn a blind eye while carmakers exceed EU pollution limits all over again. The UK government must enforce the rules to tackle deadly pollution, instead of secretly trying to water them down," Bearder told the paper.
EU air quality laws, designed to force EU member states to substantially limit hazardous emissions of sulphur dioxide, nitrogen oxides and ammonia by 2030, are being mulled over in Brussels.
Outdoor air pollution has been linked to cancer, asthma, stroke and heart disease, diabetes, obesity, and changes linked to dementia. It is contributing to about 40,000 early deaths a year in the UK, a report from the Royal Colleges of Physicians and of Paediatrics and Child Health found in February.
"The health problems resulting from exposure to air pollution have a high cost to people who suffer from illness and premature death, to our health services and to business. In the UK, these costs add up to more than £20 billion every year," the report stated.
Earlier this year, research by the European Environmental Bureau (EEB) showed that approximately 130,000 EU citizens could die prematurely in the coming years because of a push by EU member states to weaken air quality legislation.
The EEB warned that weaker pollution limits will lead to about 11,000 extra deaths in the UK by 2030, adding that around 4,000 of these additional deaths will come from weaker ammonia limits. It said that approximately 15,000 extra deaths will be caused in Italy, about 6,000 extra deaths in Germany and 10,000 extra deaths in Spain.

"It is astonishing that governments are pushing for weaker laws which would kill even more of their own citizens," Louise Duprez, senior air quality policy officer at the EEB, a Brussels-based coalition of environmental charities, said.
The World Health Organisation (WHO) said that more than 80 percent of people living in urban areas that monitor air pollution are exposed to air quality levels that exceed WHO limits.
The publication of data from over 3,000 cities compiled by the WHO found that outdoor air pollution had grown eight percent globally in the past five years, with billions of people around the world now exposed to dangerous air.
"Urban air pollution continues to rise at an alarming rate, wreaking havoc on human health," Dr Maria Neira, WHO director, said on Thursday. "When dirty air blankets our cities the most vulnerable urban populations—the youngest, oldest and poorest—are the most impacted," Dr Flavia Bustreo, WHO assistant-director general, added.
The WHO noted that most sources of urban outdoor air pollution are well beyond the control of individuals and demand action by cities, as well as national and international policymakers to promote cleaner transport, more efficient energy production and waste management.