Tory inaction on emissions 'insults people dying from air pollution,' say green lawyers
Published time: 18 Mar, 2016 16:56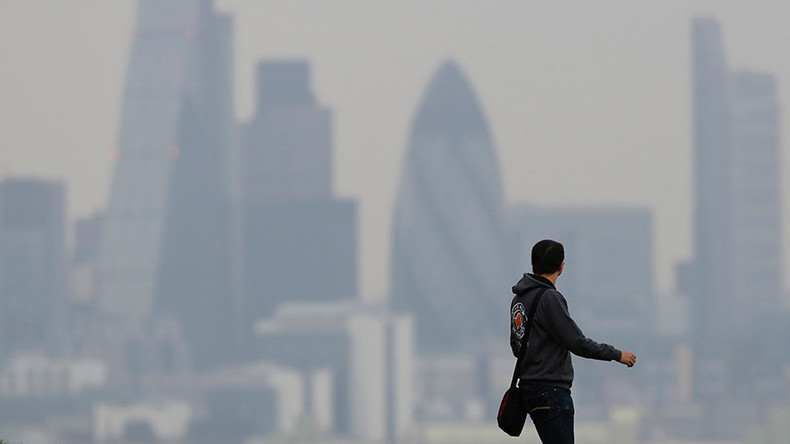 Green campaigners are suing the government for failing to meet EU air pollution limits in British cities.
Environmental law group ClientEarth issued a fresh legal challenge on Friday, after accusing the Department for Environment, Food and Rural Affairs (Defra) of delaying stricter pollution laws.
The government is legally required to meet EU targets on the toxic gas NO2, which is thought to kill about 25,000 people in the UK each year.
ClientEarth have asked the High Court to urgently review Defra's plans to tackle the gas, which is emitted from vehicles and industry.
A lawyer for the group said the court could force the government to rewrite its policies to counter pollution.
"The plan they came up with [in December 2015] was just not good enough. It was a plan for a plan. These are classic delaying tactics. Meanwhile, thousands of people are dying," ClientEarth lawyer Alan Andrews said.
"Government has been delaying for years. This challenge will force a full legal examination of Defra's plans."
ClientEarth's case concerns 15 cities and regions across the UK, including London, Manchester, Birmingham and Glasgow.
Scottish and Welsh ministers, the Mayor of London and Department for Transport will also be served with papers.
The group claimed victory last April, when the UK Supreme Court ruled the government had failed to meet EU pollution limits.
Alan Andrews, a lawyer from ClientEarth, said the government's plans were an insult to those dying from air pollution.
"As the government can't be trusted to deal with toxic air pollution, we are now asking the court to intervene and make sure it is taking action," he said.
"It is a disgrace that we have had to take further legal action to force the government to protect our health.
"The government's plans were an insult to those being made sick and dying from air pollution and failed to consider strong measures to get the worst-polluting diesel vehicles out of our town and city centers."
In January, London exceeded its EU air pollution limits for the entire year in just eight days, according to London Air Quality Network.
High levels of the toxic gas are emitted from diesel exhaust fumes. A recent study found that exposure to the fumes can significantly impact people with asthma.
Researchers at Imperial College London determined that both during and after a two-hour walk along the city's busy Oxford Street, volunteers experienced increased asthmatic symptoms including reduced lung capacity and inflammation in the lungs.