London hosts 'Immortal Regiment' march commemorating WWII veterans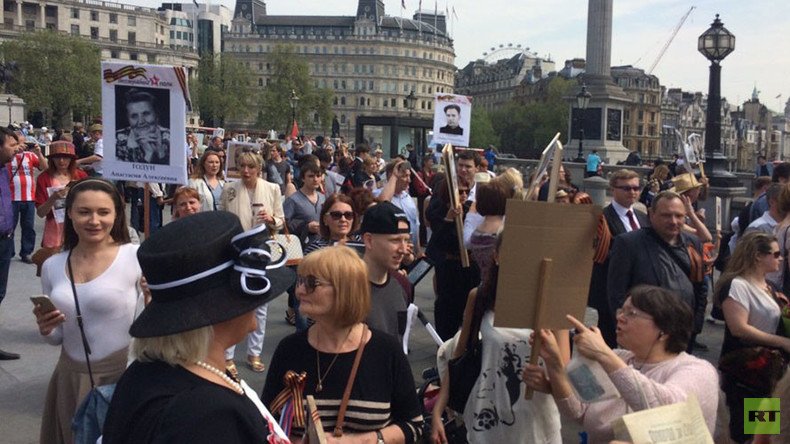 Hundreds of Brits have joined an "Immortal Regiment" march to mark Victory in Europe Day in London, honoring those who fought against Nazi Germany in World War II.
Like the original in Moscow, relatives marched from Trafalgar Square to the Houses of Parliament carrying photographs of veterans.
The march was organized by the Association of Russian Psychologists in the UK. Anyone could take part, regardless of nationality, religion or political persuasion.
Participants in the march shared stories of their relatives who fought in the conflict, known as the Great Patriotic War in Russia.
"I printed my uncle's photograph for the march. He volunteered in 1941 at 14 years old, having lied that he was 18," said actress Ekaterina Fields.
"In 1943 he was injured by a Nazi landmine losing both arms and one eye. A nurse who took care of him later married him. They had a son and two grandchildren, my two cousins. Many more members of my family were killed, wounded or affected. Memory lives on!"
Since its inception in 2007, the Immortal Regiment initiative has been met with unprecedented support, and by 2015 it had received national status.
Last year it was held in seven other countries in the post-Soviet space and Europe for the first time. This year's map of the Regiment movement, however, is unprecedented.
The marches, which are taking place from May 7 through May 9, are an act of admiration and remembrance of all those who showed bravery during perhaps the most terrifying time in our recent history.
They serve to show that each person who died or suffered in World War II was someone's family member, someone's loved one.
Other marches took place in cities across the world, including Berlin, Kiev, Paris, Madrid, Jerusalem, Toronto, New York, Beirut and Beijing.
You can share this story on social media: