'Slippery fish' Cameron is duping the public, TTIP is threat to NHS, critics say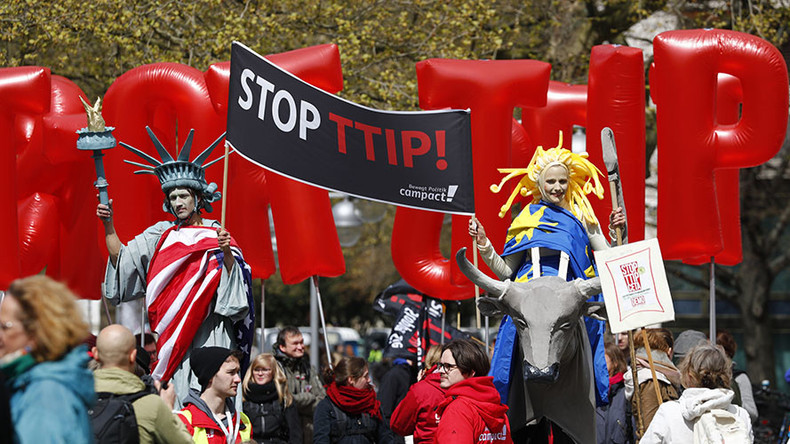 Prime Minister David Cameron stands accused of "duping" the British public with his claims the National Health Service (NHS) is "completely protected" under the controversial Transatlantic Trade and Investment Partnership deal between the US and EU.
Critics say secret TTIP documents recently leaked by Greenpeace revealed the British government is failing to secure adequate protections for the country's largely state-funded healthcare system.
During Prime Minister's Questions last week, Cameron dismissed the accusations as the "reddest of red herrings."
"There are plenty of reasons that people don't want to see trade expanded, I think they should be honest about it and say they don't like trade deals rather than using the red herring of the NHS to distract from a trade deal that could add tens of billions to our economy and generate jobs," he said.
Campaigners however remain unconvinced. Assistant General Secretary of the Unite trade union Gail Cartmail told the Independent: "It appears we are even being duped over protections for public services."
"We know that TTIP poses a real and serious threat to the NHS. The only way to neutralize that threat is for David Cameron to give a cast iron guarantee that he will exclude the NHS from the trade agreement."
Austria, Germany, Greece and Italy have all included exactly these kinds of explicit guarantees in the text of the TTIP to protect existing healthcare systems.
Also speaking with the Independent, the anti-poverty campaign group War on Want accused the prime minister of "playing the public for fools."
"The only slippery fish here is the prime minister, whose rhetoric flies in the face of two sets of legal opinion stating the NHS is in danger. As well as this, the EU's published TTIP offer clearly shows the NHS is up for grabs," said Mark Dearn, a senior trade campaigner for the group.
The Department of Business, Innovation and Skills brushed aside these concerns, saying the terms of the deal provide adequate protection for the NHS as they stand.
"We believe, as does the European Commission, that provisions in the current TTIP texts and previous trade deals achieve this protection," a spokesperson for the department told the Independent.