Cameron proposes global anti-corruption body … with zero law enforcement powers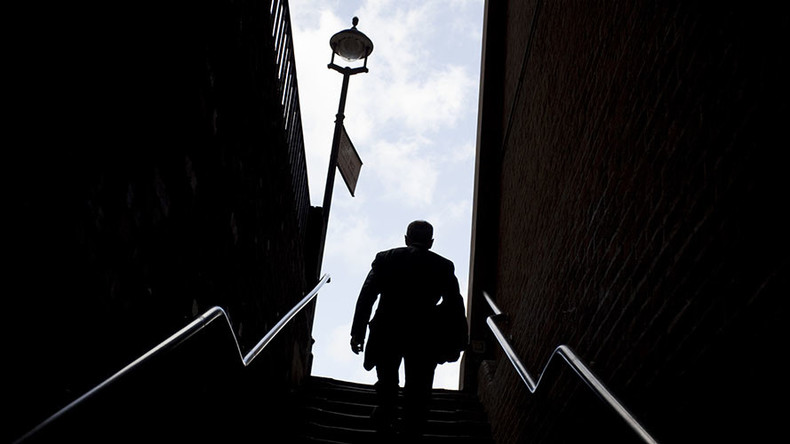 A global anti-corruption agency designed to track dirty money and crack down on tax evasion, expected to be tabled by Prime Minister David Cameron next week, will have no law enforcement powers whatsoever, it has emerged.
The body will likely assist law enforcement agencies and anti-corruption investigators across the globe in identifying and tackling illicit financial flows. However, it will be solely reliant on other state and cross-border organizations to hold white collar criminals to account.
Cameron's anti-corruption tsar, Eric Pickles, says the new body will lack law enforcement powers, but will provide conduits for information exchange among domestic parliaments committed to the global fight against corruption.
He suggests the agency would take on a broadened version of the remit held by the Organization for Economic Cooperation and Development (OECD).
The OECD is responsible for seeking solutions to common problems, proposing better cross-border regulation and coordinating the global and domestic policies of its 34 member states.
Ultimately, the organization is geared towards stimulating economic progress within a neoliberal framework that all too often frowns upon robust regulation that would see a greater number of financial criminals held to account.
Civil society groups criticize the OECD for limiting its membership to a select group of wealthy nations, while others argue its response to global tax evasion and money laundering has been muted at best.
'Britain is the money laundering capital of the world'
Britain has been described by tax justice and anti-corruption experts as the money laundering capital of the world. Cameron has repeatedly pledged to tackle corruption at home and abroad but Tory action on the ground has been sorely lacking.
In 2015, the PM criticized money laundering in a landmark speech on trade and corruption in Singapore. He expressed deep concern that luxury properties, primarily in London, are being purchased by foreigners through opaque shell companies to launder ill-gotten gains.
The PM also pledged to bring in new measures to fight illicit financial flows in the UK and cultivate greater transparency. However, critics say little has been done since to address the problem.
The explosive Panama Papers leak, which rocked the global financial world last month, confirmed the key role Britain plays in facilitating money laundering and white collar crime.
Dubbed the most expansive data leak in the history of journalism, the files came from Panama-based law firm Mossack Fonseca – a key player in the shadowy world of offshore finance.
The data was initially handed to German newspaper Süddeutsche Zeitung from an unknown source and later shared with the International Consortium of Investigative Journalists (ICIJ).
It consisted of more than 11.5 million legal and financial records, which cast a glaring spotlight on an opaque world of financial crime and corruption cloaked in secrecy by a complex network of offshore firms.
Of the 214,000 corporate actors exposed, 113,000 were registered in the British Virgin Islands (BVI). Some 1,924 UK-based professionals worked with Mossack Fonseca to manage the activities of these firms.
'UK is safe bet for criminals'
Laundering dirty money via UK luxury property is a "safe bet" for criminals, according to anti-corruption think tank Transparency International (TI) UK.
"Rising house prices ensure a secure investment, and if you use a BVI company to hide your identity then the layers of secrecy facilitated by the offshore company structure will prevent law enforcement from discovering who you really are," the group's Head of Advocacy and Research Rachel Harris wrote in a blog post last month.
"The May Anti-Corruption Summit provides a crucial opportunity for the UK to get its own house in order. Last year he [Cameron] said the UK would not be a haven for dirty cash. The rhetoric is good, but if there really is political will to back up the words then substantial action must follow."
Just last week, almost 100 Nigerian civil society groups called on Cameron to end Britain's role as a safe haven for white-collar criminals who steal Nigeria's wealth and resources for personal gain.
Key reformists from across Nigeria's political spectrum issued the plea in a sharply-worded letter sent to the British prime minister.
The letter's signatories, who represent 95 of Nigeria's most progressive anti-corruption and human rights groups, demanded Cameron tackle Nigerian dirty money laundered in Britain via luxury properties – as well as shops and schools.
Observers say global anti-corruption architecture has been locked in stagnation for over a decade, with key governments obstructing progress. TI UK argues the result of this trend is empty rhetoric advocating change in the absence of concrete action.
A total of 40 countries are expected to attend the anti-corruption summit, which will be hosted by Cameron on May 12. While some anti-corruption experts suggest the event will aid the building of intergovernmental alliances bent on tackling global corruption, others are less hopeful.