Collusion between Westminster, police & media sustained Hillsborough cover-up – Shadow Home Sec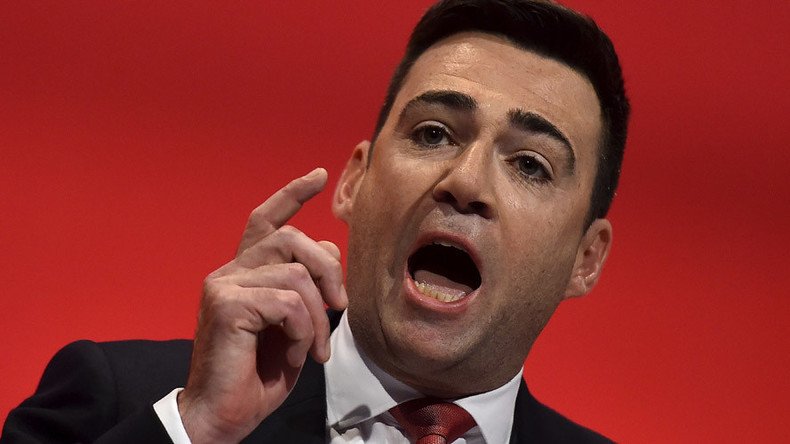 Collusion between political elites, the media and police bolstered the Hillsborough cover-up, which was dutifully advanced in Westminster committee rooms and 10 Downing Street press rooms, the shadow home secretary has said.
Andrew Burnham made the remark in the House of Commons on Wednesday, as MPs debated the flaws in Britain's criminal justice system.
The debate was sparked by the verdict of an inquest on Tuesday that the 96 Liverpool fans who died in the 1989 Hillsborough catastrophe were unlawfully killed. Jurors also said there had been widespread police failings.
'Cover-up went right to top'
MPs gave rapturous applause to Burnham's hard-hitting speech, as 27 years of seething anger erupted across the House of Commons.
Addressing fellow MPs, Burnham said the Hillsborough cover-up infiltrated the top echelons of Britain's political and media establishment.
"This cover-up went right to the top. It was advanced in the committee rooms of this House and in the press rooms of 10 Downing Street," he said.
Burnham said the cover-up concerning police, in particular, has taught the British public that justice and accountability cannot be bound by "arbitrary time limits."
He also sharply criticized impunity enjoyed by rogue ex-officers, who can evade misconduct proceedings by retiring under current UK law.
Home Secretary Theresa May's draft Policing and Crime Bill says suspected rogue officers should be answerable to misconduct proceedings 12 months after retirement.
However, Burnham suggested: "One of the lessons of Hillsborough is that there must be no arbitrary time limits on justice and accountability."
"So will the Home Secretary work with me to insert a Hillsborough clause into her Bill – ending the scandal of retirement as an escape route and of wrong-doers claiming full pensions – and apply it retrospectively?"
'Adversarial battle'
The shadow home secretary also slammed South Yorkshire Police, which he accused of going back on its promise not to renege on a 2012 public apology.
"When the Lord Chief Justice quashed the original inquest, he requested that the new one not degenerate into an "adversarial battle," Burnham continued.
"Sadly, Mr Speaker, that is exactly what happened. Shamefully, the cover-up continued in this Warrington courtroom. Millions of pounds of public money were spent re-telling discredited lies."
Burnham said the position of South Yorkshire Police's Chief Constable David Crompton, who had handled this inquest, was untenable. Shortly afterwards, it emerged Crompton had been suspended.
On the subject of press accountability in the face of widespread misreporting, Burnham demanded a phase two Leveson inquiry focused on the unhealthy relationship between the police and the press that was central to the Hillsborough cover-up.
"No-one in the police or media has ever been held to account for the incalculable harm they caused in smearing a whole city in its moment of greatest grief," he said.
'Recognize the truth'
Files relating to a number of key individuals and organizations linked to the Hillsborough disaster are currently being scoured for evidence of criminality. Among the allegations being investigated, are manslaughter and the perversion of justice.
Jon Stoddart, who headed Scotland Yard's Operation Resolve probe into the planning of the FA Cup semi-final match that left 96 Liverpool FC supporters dead, says scrutiny is being directed at senior ranking officials.
An ongoing investigation, run by UK watchdog the Independent Police Complaints Commission (IPCC), casts a particularly grim hue over the inner-workings of Britain's criminal justice system.
It focuses on allegations of a police cover-up concocted to lay the blame for the disaster solely at the feet of innocent Liverpool supporters who had made their way to the fateful match. Alleged offenses include perjury, conspiracy to pervert the course of justice and misconduct in public office.
The second investigation, referenced by Stoddart, is a Scotland Yard probe enacted in the wake of a damning report published by Britain's Hillsborough Independent Panel in 2012. The panel concluded that 164 police documents had been sanitized, and in 116 of these cases the changes related to remarks deemed to be "unfavorable" regarding the policing of the football match.
Offenses now being considered by UK authorities in light of this probe include misconduct in public office, skewing the course of justice and gross negligence manslaughter.
Freemasonry has also been linked to allegations of a police cover-up concerning the Hillsborough disaster.
Deputy chairwoman of UK police watchdog the IPCC, Rachel Cerfontyne, told the Times newspaper on Tuesday: "We are looking to see if there were controlling minds and if there were, who were those controlling minds."
In the wake of Burnham's emotive speech, South Yorkshire Police was heavily criticized by Home Secretary Theresa May.
"I think everybody will be disappointed and indeed concerned by some of the remarks that have been made by South Yorkshire Police today," she said.
"There was a very clear verdict yesterday in relation to the decisions that were taken by police officers and the action of police officers on 15 April 1989 and I would urge South Yorkshire Police force to recognize the verdict of the jury."
She added the force needs to review what the verdicts have shown and finally "recognize the truth."
You can share this story on social media: