Jury rules police responsible for Hillsborough tragedy, Liverpool fans not at fault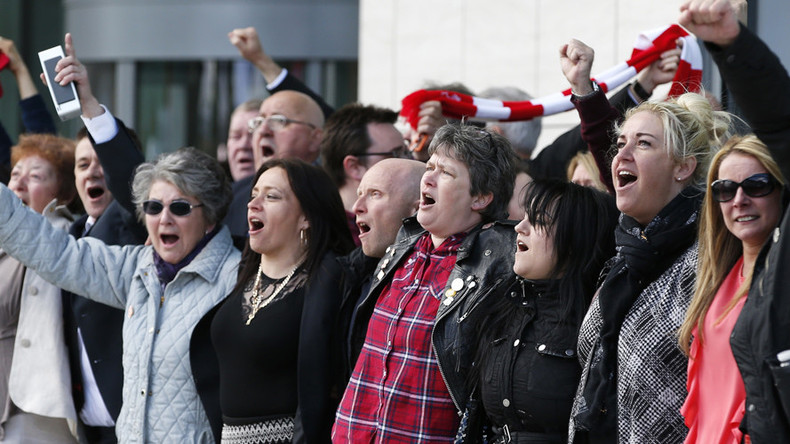 The 96 supporters of Liverpool Football Club who died in Britain's worst sporting disaster, were killed unlawfully, a jury ruled on Tuesday. It was decided that responsibility for the tragedy lay with officials and the authorities, not with the fans.
After answering "Yes" to the question "Are you satisfied, so that you are sure, that those who died in the disaster were unlawfully killed? Yes or no," family members and relatives of the victims celebrated by clapping and hugging each other.
The decision follows decades of legal proceedings and inquiries since the 1989 tragedy, which saw a mass crush claim scores of lives at an FA Cup semi-final at Hillsborough Stadium, Sheffield. In 1991 the victims' deaths were ruled accidental, but that verdict was quashed in 2012 after a long campaign by family members.
The jury of six women and three men concluded that errors in the police planning, operation and emergency response, as well defects in the stadium all played a part in the disaster. Club officials from Sheffield Wednesday Football Club, the club which owned the stadium, were also found to be at fault.
The behavior of fans from Liverpool and Nottingham Forest Football Club, the other club involved in the game that day, did not contribute to the tragedy, according to the jury.
In Britain The Sun newspaper came under fire in the aftermath of the tragedy for claiming "some fans picked pockets of victims" and "some fans urinated on the brave cops". In 2004 they published an apology, claiming it was "the most terrible mistake in its history."
To this day, The Sun is still subject to a boycott across the city of Liverpool.
On April 15, 1989 thousands of fans were caught in a crush on the Lepping's Lane terrace at Hillsborough. Match commander Chief Superintendent David Duckenfield finally gave the order to open an exit gate allowing 2,000 fans to flood into already-packed pens behind the goal.
The jury ruled that the police response was "slow and uncoordinated" with key decisions made too late. Responding to a question about the emergency services role, the jury ruled that police delayed alerting them to a major incident, contributing to the scale of the tragedy.
Families of the victims displayed portraits of their lost loved ones in an emotional tribute at the courtroom on Tuesday.
The verdict brings to an end the longest jury proceedings in British history which began in March 2014 and has heard evidence from more than 1,000 witnesses. Following today's verdict the Crown Prosecution Service said it will begin considering criminal charges over Hillsborough.
Liverpool FC's anthem You'll never walk alone was sung on the steps outside the courtroom as the session came to an end.