'Fireball' meteor lights up English skies (PHOTOS)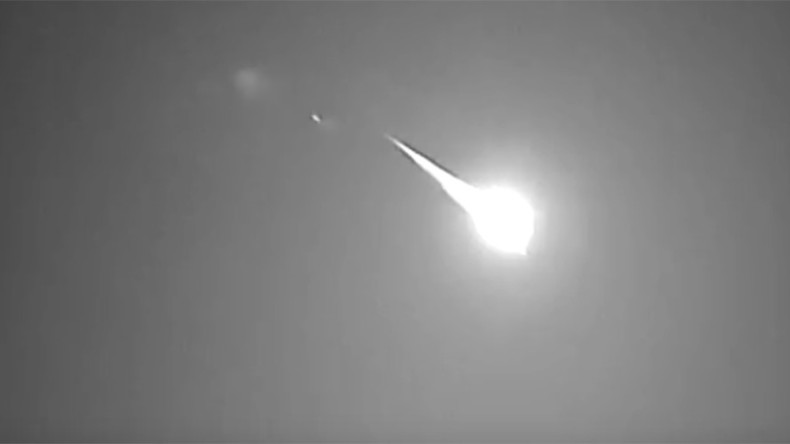 Stargazers enjoyed a rare treat when giant "fireball" meteor lit up the sky over southern Britain.
The meteor was sighted at about 0200 BST as it traveled over Basingstoke in Hampshire.
The UK Meteor Observation Network (UKMON) described the phenomenon as "rare" owning to the brightness of the space object.
Witnesses described the meteor shining with an "intense" light, which may have been bright enough to cast a shadow on the ground below.
UKMON volunteers spotted the fireball from outposts in Church Crookham, Clanfield and Basingstoke.
Stargazers also saw it from the Norman Lockyer Observatory in Sidmouth, Devon.
Volunteer Peter Campbell-Burns told the Mirror that it was unusual to see such a bright meteor.
"We're catching meteors every single night, but it's rare we see one as bright as this," he said.
"It's a fairly exceptional event which generally happens once every two or three years."
"It's quiet rare to see one meteor this bright. To get two in the space of about a month is even more unusual," he added.
Last month, meteor spotters recorded video footage of a blue and green fireball as it flew over Northern Ireland on St. Patrick's Day.
The Basingstoke meteor is thought to have been the biggest ever recorded in Britain, appearing as bright as the moon.
Most observers estimated the meteor's magnitude in the range of -10 to -20, but some thought it might have been as great as -25, or almost as bright as the sun.
The mysterious fireball comes two years after a meteor exploded over Chelyabinsk, in Russia, causing damage over an 80-kilometer (50-mile) radius.
The Chelyabinsk meteor was 30 times brighter than the sun, with a force of 40 Hiroshima atomic bombs. Scientists concluded the meteor was the biggest in a century.