UK in talks to deploy up to 1,000 troops to Libya as Hammond arrives in Tripoli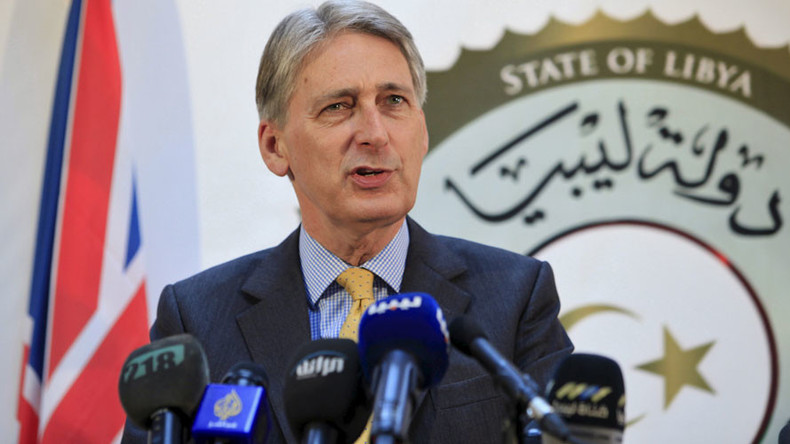 European defense officials are to discuss sending thousands of troops to Libya. The talks come as UK Foreign Secretary Philip Hammond pays an unannounced visit to Tripoli in a show of support for the country's new UN-backed government.
The UK is in talks to deploy as many as 1,000 troops to the war-torn country amid concerns the newly installed unity government is failing to stem the rising tide of Islamic State (IS, formerly ISIS/ISIL) and people smuggling.
Air Vice Marshal Edward Stringer, assistant chief of defense staff, is set to fly to Rome to discuss with Italian and French commanders the possibility of committing troops to the 6,000-strong Italian-led Libya International Assistance Mission.
Pressure on the UK government to disclose details of the extent of its involvement in Libya has been mounting after it emerged that a number of British special forces troops have already been operating in the country since January.
Speaking to RT last Wednesday, Foreign Affairs Committee Chair Crispin Blunt urged the government to make public its operations in Libya after accusing the Foreign Office of being "less than candid" about the matter.
Nor has the government spoken up about the 150-strong task group of Royal Marines stationed in the Mediterranean within striking distance of the North African state, though reports suggest the Special Purpose Task Group (SPTG) has been sent in preparation for heightened operations against illegal migration and people smuggling.
EU foreign and defense ministers are set to hold a special meeting on Monday evening to discuss a separate mission concerning the delivery of police and border forces to the country, documents leaked to Reuters reveal.
Last week a government source claimed that Tripoli would reject "premature" offers of foreign military aid out of concern that intervention might heighten divisions within the country.
"Even though there are ISIS fighters all along the coast they seem more worried about the impact that foreign fighters would have on trying to deal with the situation with the east of the country," the unidentified minister told the Times.
However, reports are circulating that Libyan Prime Minister-designate Fayez al-Sarraj may request support Monday evening during a video conference call with EU ministers in Luxembourg.
As uncertainty over European military intervention rages on, Foreign Secretary Hammond has pledged £10 million (about US$14 million) in funding to the Government of National Accord (GNA) during a surprise visit to Tripoli, the first since the NATO-backed rebels ousted and killed Muammar Gaddafi in 2011.
The funding will include £1.5 million to combat illegal migration, smuggling and organized crime and £1.8 million to fund counter-terrorism operations, according to the Foreign Office.
Since the closure of the popular migration route from Turkey to Greece, an average of 2,000 people a day, mostly from sub-Saharan Africa, now make the dangerous crossing from Libya to Italy, according to the International Office of Migration.
"Britain and its allies fully support Prime Minister Fayez Serraj and his government as they restore peace and stability to the whole of Libya. We stand ready to provide further assistance to Libya and its people," Hammond said at a press conference in Tripoli.
"Britain is at the forefront of the international community's efforts to stabilize Libya and is committing an extra £10 million to help the Government of National Accord strengthen political institutions, the economy, security, and justice."
Hammond's visit is the latest in a series of visits from European foreign ministers, including those of Italy, France and Germany, as a gesture of support for Libya's UN-backed government.
You can share this story on social media: