SNP leader calls on Scotland to hold new referendum if Brexit passes
Published time: 17 Apr, 2016 16:33
Edited time: 17 Apr, 2016 17:13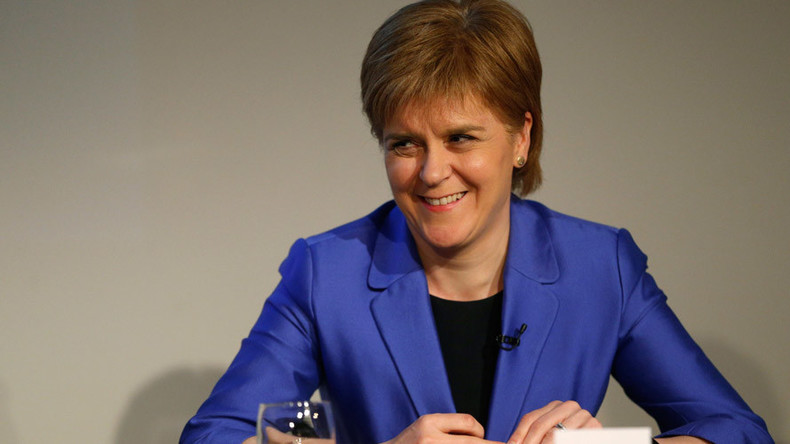 Scottish National Party leader Nicola Sturgeon said on Sunday that a new independence referendum should be held if the UK leaves the European Union "against our will."
Sturgeon said the SNP's manifesto would call for a second independence vote before local elections next month, ahead of the upcoming Brexit vote on June 23.
"We believe that the Scottish Parliament should have the right to hold another referendum if there is clear and sustained evidence that independence has become the preferred option of a majority of the Scottish people," she said in a statement.
The SNP leader also added that she would "listen to the concerns" of people who voted "No" in 2014 and "seek to address them."
Around 55 percent of Scots voted against independence in the 2014 referendum that saw two million votes being cast.
READ MORE: Scottish deficit deepens as SNP preps for second independence drive
Welsh voters, who will receive almost £2 billion in European Structural Funds between 2014 and 2020, are leaning against a Brexit in a recent poll with 41 percent preferring to stay in the EU and 37 percent against it.
Suggestions by Remain campaigners of strict new border checks between the Northern Ireland and the Republic of Ireland if Brexit is approved were labeled "scaremongering" by pro-Brexit Secretary Theresa Villiers on Sky News Sunday.
"There is no reason why we have to change the border arrangements in the event of a Brexit because they have been broadly consistent in the 100 years since the creation of Ireland as a separate state. It's in the interest of both countries to keep an open border," she said.