Scottish deficit deepens as SNP preps for second independence drive
Published time: 24 Mar, 2016 18:00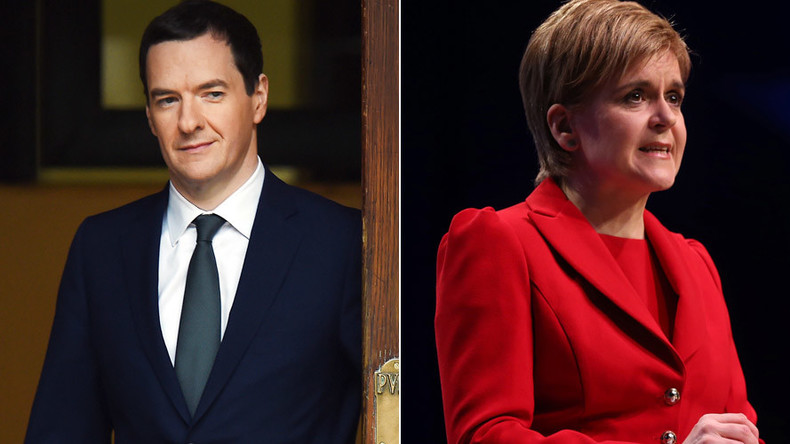 Scotland's deficit has deepened and now stands at more than three times the rest of Britain's amid collapsing oil prices and global economic turmoil, new Institute for Fiscal Studies (IFS) figures show.
Had Scotland become an independent state on March 24, the day suggested by then-SNP chief Alex Salmond before he lost the independence referendum, it would be facing a total debt of £2,850 ($4,040) per head in the 2016/17 financial year, in comparison to £850 ($1,200) per head for the rest of the UK, according to the IFS.
The fresh economic forecast was published as Scottish National Party (SNP) leader Nicola Sturgeon launched the first leg of her party's campaign for the upcoming Holyrood election this May. Speaking at a campaign rally, Sturgeon called on the SNP's 129 candidates to fight until the bitter end to secure a second majority government.
In the face of a recent fall in oil prices, the think tank's analysis suggested that if Scotland's share of oil tax receipts was factored in, the black hole in its yearly books would hit £12.2 billion ($17.3bn) in 2020. The IFS added this deficit would reach 6 percent of Scotland's GDP by 2021, or £12.8 billion ($18.15bn).
The think tank had previously predicted that Scotland's deficit for 2020 would stand at £9.7 billion ($13.75bn). Drawing from spending cuts expected to be implemented by Westminster, the Office of Budget Responsibility (OBS) says the UK will see a surplus of 0.5 percent of GDP for 2020 and 2021.

Despite this fact, opinion polls place the SNP some 30 points ahead of its main rival, Labour, and the party is on the brink of a second term in Holyrood as a majority government.
Sturgeon is currently prepping her party for a second push for independence. Speaking at the SNP's spring conference earlier this month, she said they would "patiently and respectfully seek to convince [pro-UK voters] that independence really does offer the best future for Scotland."
IFS: £12.8bn of extra austerity with indepenence. SNP: won't use devolved powers to stop austerity. What the hell has last 5yrs been about?

— Blair McDougall (@blairmcdougall) March 23, 2016
She argued that this would pave the way for a future shaped by the Scottish people's "own choices," rather than the agenda of a Tory government that had been rejected by the Scottish electorate.
The IFS clarified its deficit forecasts, saying that Scottish independence could bolster Holyrood's finances. The think tank said an independent Scottish government could slash debt costs by waging a deal with Westminister, allowing its economy to grow at a faster pace than it would if Scotland remained a part of the UK.
The IFS' predictions follow sobering data from the Scottish government's in-house figures, however, and a broader-ranging analysis of oil-related revenues is expected to materialize in the future. Earlier this month, the annual Government Expenditure and Revenue Scotland (GERS) said that in 2014/15, the gap between overall spending and tax revenues had hit £15 billion ($21.25bn).