John Cleese trolls Swedish hotel for problems worthy of 'Fawlty Towers' episode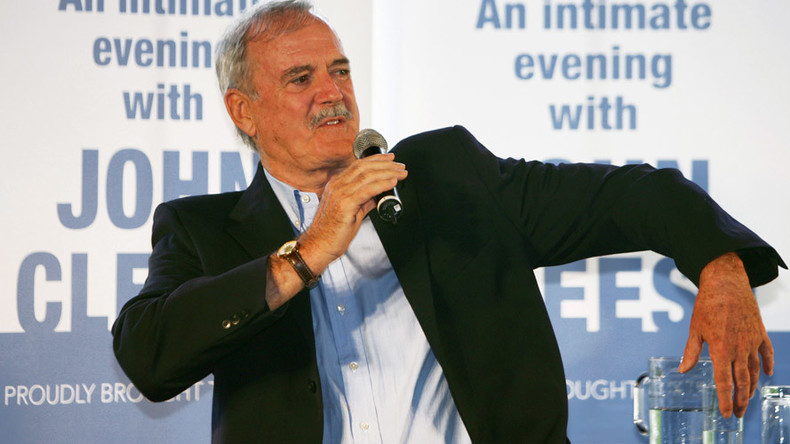 The comic genius behind the iconic character Basil Fawlty gave one of his signature "trashings" this weekend to a Swedish hotel after a recent stay.
John Cleese, 76, has become a prolific contributor on Twitter (@JohnCleese) and is currently touring the Scandinavian country with his hilariously morbid show "Last Time to See Me Before I Die."
He initially tweeted praise for his current hotel in Karlstad…
Just stayed in excellent hotel the @elitehotels Karlstad. Efficient, friendly, very good food. Nice 14th century lifts, too...

— John Cleese (@JohnCleese) April 16, 2016
...but a subsequent post about his other hotel in Linkoping, using the phrase "in marked contrast," is just the kind of trolling that Basil, Sybil, and Manuel faced in all 12 episodes.
Cleese even had a go at the shower, complaining it was missing a soap dish.
Let's hope those complaints didn't fall on deaf ears!
The hotel chain has yet to respond to Cleese, perhaps still licking their wounds from the "damn good thrashing."
The legendary British actor's comments came as the real-life hotel that inspired the classic series is being demolished in the UK town of Torquay to make way for 32 retirement flats.
Cleese stayed at the Gleneagles Hotel with other Monty Python members while they filmed "Flying Circus" sketches and he became fascinated with owner Donald Sinclair, whom he reportedly described as "the most marvelously rude man I've ever met."
Among the "rude" things he was accused of doing, Sinclair threw Eric Idle's briefcase out of a window after mistaking his alarm clock for a bomb and criticized Terry Jones for his table manners.
One wonders how Sinclair - or his fictional counterpart Basil Fawlty - might deal with a guest like Cleese.
I'm reading hotel reviews and have got a new hero, a hotel owner that makes Basil Fawlty look like a pussycat.

— Katta L (@katta_IoIkatt) November 25, 2015
Pub landlord compared to Basil Fawlty after leaving scathing responses to negative reviews on Tripadvisor says he … http://t.co/NG6BM32Lg6

— fullpint (@fullpint) May 16, 2015
Would someone please make a detailed thing where every episode of fawlty towers is written as trip advisor reviews? With Basil chipping in.

— Josie Long (@JosieLong) March 1, 2015
It appears someone did create a parody Yelp page for Fawlty Towers in Torquay, complete with a review that reads "the Missus and I had a difficult time finding the hotel, passing it twice before we realized that the sign letters had been rearranged to spell 'Flowery Twats'" and "The owner, Mr Basil Fawlty, was a case study in neurosis and over-reaction".
A similarly-inspired Yelp page for the cult classic "American Psycho" offers a number of hilarious "reviews" for the fictional New York restaurant Dorsia, where "it's hard to get a reservation."
Hopefully, any hotels accommodating John Cleese during his European tour will bow to the power of his Twitter reach of more than five million followers and deliver "excellent" service.
He currently doesn't have any shows booked in Germany, which is probably for the best since he's never been very good at not mentioning the war.