UK Home Office thinks Saudi committing war crimes in Yemen, Foreign Office doesn't!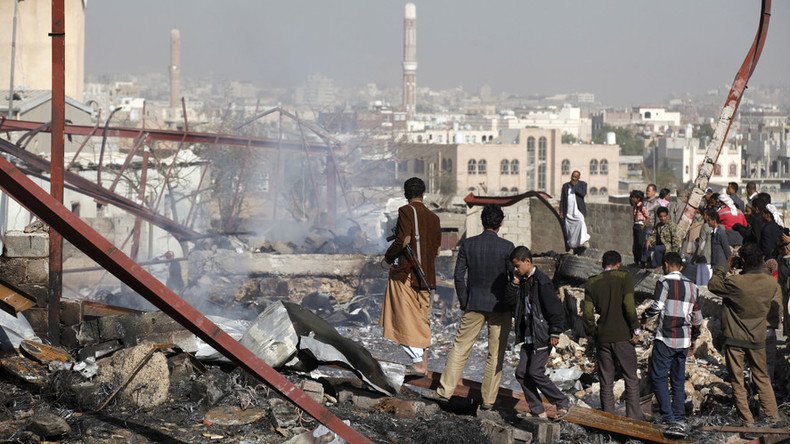 Britain's Home Office now believes Saudi Arabia's war in Yemen is breaching international human rights laws, after declaring it illegal to return refugees to the country. The only problem is, the Foreign Office thinks otherwise.
An internal Home Office assessment published on Wednesday appears to contradict claims by the Foreign Office that Saudi-led airstrikes in Yemen are not in breach of international humanitarian law.
The assessment issued guidance to immigration and asylum decision-makers, advising them that "indiscriminate violence" in the country was likely a breach of the European Convention on Human Rights.
On the same day, a Foreign Office memorandum released to the select committee on arms exports licenses declared that Saudi Arabia is acting within international law.
Furthermore, the memo asserted there was no need for Britain to suspend weapons exports to the Gulf state.
In its report on the political security and humanitarian position in Yemen, the Home Office states: "There are reports of the use of indiscriminate acts of violence by both sides, including the use of cluster bombs and attacks on civilians, homes, schools, factories, markets and reports of civilians fleeing airstrikes and being chased and shot at by helicopters."
It adds: "In the north, west and center of the country the humanitarian and security conditions are likely, in many cases, to breach Article 3 and/or Article 15(c) of the European convention."
These articles of the European Convention on Human Rights forbid the return of someone to a country where their life is threatened.
However, the Foreign Office memorandum, published on the same day, takes a completely different stance on the Yemen conflict.
Lieutenant General Sir Simon Mayall, Ministry of Defence Middle East adviser until late 2014, urged the committee not to suspend exports to Saudi Arabia.
"Our supporters are already dismayed and exasperated by our predilection to indulge special interest groups over our national interest. Our competitors can only see great opportunities to fill the economic vacuum that would be left by the UK's actions, and our enemies will delight in seeing the UK's commitment to Gulf stability weakened or broken," he writes.
Westminster's contradictory stance on the Yemen conflict comes at a time when the British government is accused of complicity in Saudi Arabia's alleged war crimes.
UK military experts are "in control rooms" of the Saudi coalition as it bombs Houthi rebels in the country, Saudi Foreign Minister Adel Jubeir confirmed in January.
The Ministry of Defence (MoD) has stressed that British military advisers are not directly involved in choosing targets or programming precision weapons for the Saudis.
You can share this story on social media: