Did George Osborne lie in saying he didn't benefit from own tax cuts?
Published time: 13 Apr, 2016 14:47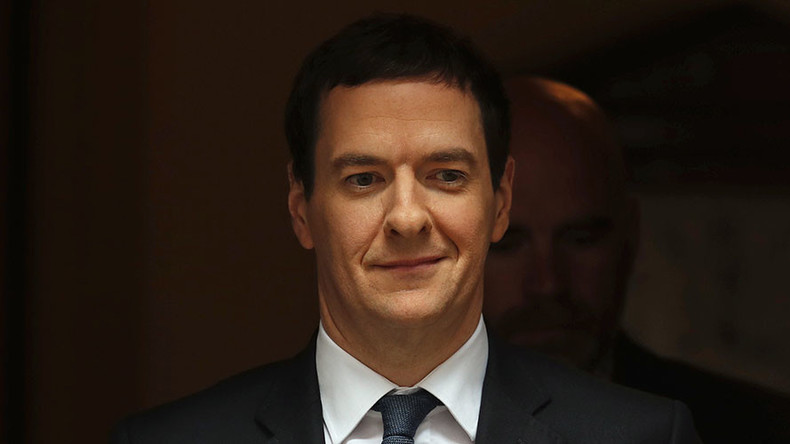 Chancellor George Osborne's newly-released tax returns suggest he may have lied in 2012 when he said he didn't earn enough to qualify for the tax cut for top earners mandated in his own budget.
It emerged that Osborne made nearly £200,000 (US$284,000) last year after he was forced to release his tax return details for 2014/15 in the wake of the Panama Papers leak.
However, in 2012 after announcing he was cutting the top rate of tax, Osborne told the BBC: "I'm not a winner from this Budget. My salary is less than [the] £150,000 threshold."
Noting that the government had recently cut ministers' salaries, he told the broadcaster he was not "personally affected."
Asked if he had any other sources of income and whether he was a 50 pence tax rate payer, he said: "I'm not actually, no."
While the Chancellor hasn't released previous years' tax returns, critics allege even if Osborne earned no dividends in 2012, he was still likely earning an income from renting out his Notting Hill home, which would ratchet up his earnings to well above the minimum £150,000.
Speaking to the Daily Mirror on Tuesday, a Treasury source denied Osborne misled the public, and insisted the Chancellor had been referring to the previous tax year despite his use of the present tense.
"The Chancellor and his office were absolutely clear about his status as a taxpayer, and that he was talking about the previous tax year.
"Everyone can see every detail of his earnings today because of the unprecedented transparency he has now offered – the first Chancellor ever to do so.
"He has made a series of changes to tax – including on dividend payments, the taxation of pensions and mortgage interest relief – that are likely to directly affect his own taxation."
Labour's Shadow Chancellor John McDonnell said: "This is about trust and fairness at the top of Government.
"When the Chancellor was cutting the top rate of income tax for people like himself – while at the same time saying he wasn't wealthy enough to benefit – he was also cutting public services and support for some of the most vulnerable in our society."