Something to hide? Politicians rattled by tax transparency post-Panama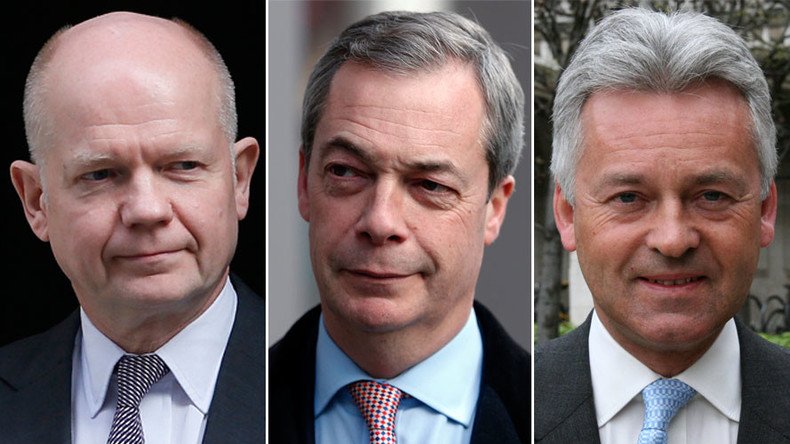 Prominent establishment figures including former foreign secretary William Hague, UKIP leader Nigel Farage and Tory MP Alan Duncan appear concerned about calls for tax transparency in the wake of the Panama Papers leak.
Speaking to the BBC on Tuesday, Hague called for "a maturity in the public debate" and warned against judging Prime Minister David Cameron by his tax affairs.
He said "chaotic personal finances" are not a gauge of leadership ability.
He pointed to prime ministers of the past such as William Pitt the Younger and Winston Churchill who had controversial tax habits. Churchill's "would have been more difficult to defend in public" than Cameron's, he added.
'Low-achievers'
Speaking in the Commons on Monday, as Cameron received a ferocious tongue-lashing from opposition leader Jeremy Corbyn, Tory millionaire Alan Duncan MP said the PM's critics should admit "that their real point is that they hate anyone who has got a hint of wealth in them."
He said if such attitudes are allowed to dominate "we risk seeing a House of Commons which is stuffed full of low-achievers who hate enterprise, hate people who look after their own family and know absolutely nothing about the outside world."
Labour MP Caroline Flint attacked Duncan for conflating wealth with success, a point he later acknowledged could have been better stated.
'No. Big no!'
UKIP leader Nigel Farage, meanwhile, himself a former commodities banker, came out firmly against tax transparency in a BBC interview on Tuesday.
He damned Cameron as a hypocrite for criticizing comedian Jimmy Carr over his tax affairs in 2012 while doing similar thing himself.
Push on whether he would reveal his own tax return, he said: "It's a private thing. No. Big no!"
Farage admitted he had a trust on the Isle of Man but said he had never used it.
"I'm worried where we are going with this. Actually, I think in this country what people earn is regarded as a private matter," he added.
You can share this story on social media: