'Used prime minister' David Cameron up for sale on eBay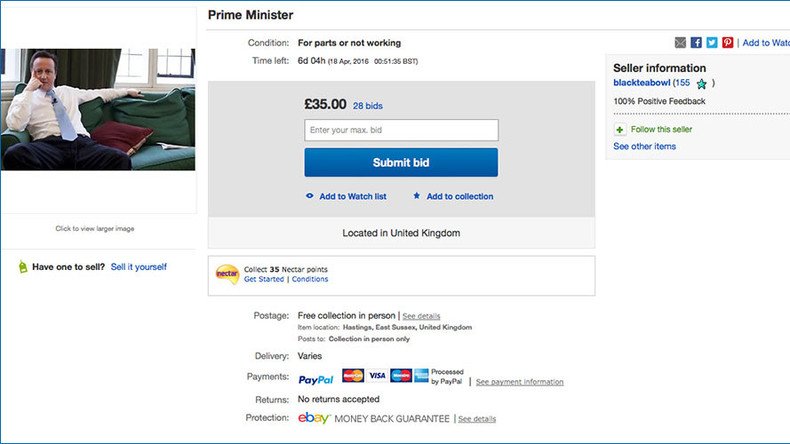 David Cameron, the British prime minister in the middle of the #PanamaPapers tax evasion scandal, was briefly up for auction on eBay by a hilarious seller this week.
Listed in the 'statues and ornaments' section, "David Cameron" had a 'Buy Now' price of £65,900 (US$94,000) before the ad was removed from the site Tuesday.
That's a steep cost for a "used" item described as being sold "for parts or not working" and "no longer needed."
Unfortunately, the PM will not come with a box or instructions as the seller "is not prepared to touch" the product.
All proceeds for the sale will go towards "Mr Ethical's campaign to expose massive HSBC fraud and Cameron's cover-up."
Mr Ethical aka Nicholas Wilson, who posted the ad, is a whistleblower and corruption campaigner who revealed HSBC's £1-billion fraud.
Read more: Captured regulators, impunity behind HSBC's decision to keep HQ in London

The eBay auction was the latest blow for Cameron, who is facing calls to resign after the leaked Panama Papers revealed his family history of tax evasion and offshore accounting.
A petition calling for his resignation has reached 144,045 signatures, more than the 100,000 minimum required for Parliament to debate the issue.
You can share this story on social media: