'Arrest arms dealers, not peace campaigners!' 8 on trial over weapons fair protest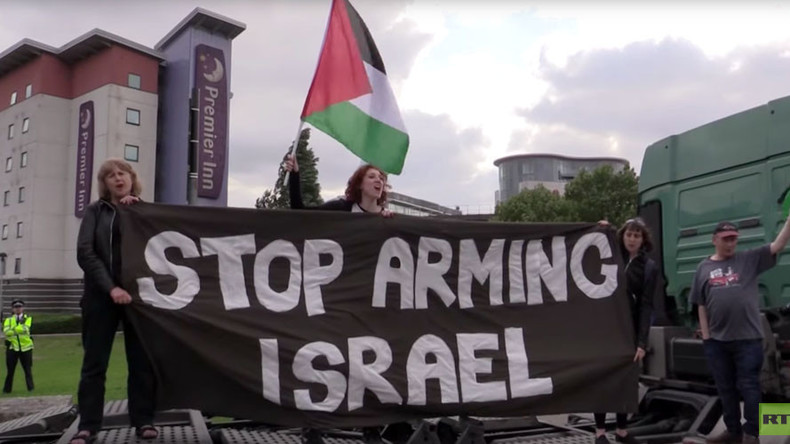 Eight activists are standing trial at Stratford Magistrates Court for disrupting the world's biggest arms fair, held in London, where deadly merchandise was marketed to repressive regimes such as Saudi Arabia, Bahrain and Azerbaijan.
The campaigners blocked the road leading to the Defence & Security Equipment International (DSEI) in Stratford, London, last September, preventing tanks and weaponry from entering.
The defendants are using a defense of necessity, insisting their actions were justified because they intended to prevent greater crimes taking place around the world.
These include: "The sale of weapons to internally repressive regimes, including Bahrain and Saudi Arabia; the sale of weapons to countries imminently at war and overtly complicit in ongoing war crimes in Yemen, Kurdistan and Palestine; the sale of weapons to regimes that have been widely accused of arming ISIS [Islamic State or IS]; the promotion for sale of weapons that are designed specifically for torture or banned under international law for their capabilities concerning the mass indiscriminate killing of civilians."
The DSEI arms fair is held every two years in London, and is regularly attended by representatives from repressive regimes. It has also previously provided a platform for weapons dealers to illegally promote arms that are used for torture.
Last September's event featured stalls from more than 1,500 exhibitors, including arms giants Lockheed Martin, BAE systems, Finmeccanica and others.
Protestors sought to disrupt the fair by locking their bodies together to block access roads outside the Excel Centre, where the fair was held. Several were arrested.
Some protestors, such as Vyara Gylsen – who was arrested after writing a slogan on a military vehicle with a washable marker pen – have since seen criminal charges against them dropped.
The defendants in court this week include Isa Al Aali, a Bahraini activist who was tortured during the Arab Spring uprising in Bahrain.
Green Party activists Angela Ditchfield and Tom Franklin are also among the eight appearing in court.
"The government is supporting and facilitating the sale of weapons that are being used to kill ordinary people, from the West Bank to Yemen and Sudan," Franklin, 57, of York, said.
"This week we will put the arms trade in the dock and highlight the crimes that the government and the companies at DSEI are complicit in. Arrest arms dealers, not peace campaigners."
The defendants will be supported by expert witnesses, including former South African MP Andrew Feinstein, who resigned from parliament in 2001 in protest at the government's refusal to investigate a £5 billion (US$7.12 billion) arms deal.
Amnesty International UK's Oliver Sprague, who heads up the charity's arms Control and Policing division, will also give oral evidence, as will Bahrain Institute for Rights and Democracy director Sayed Ahmed, who seeks to improve accountability in the repressive Gulf state.
You can share this story on social media: