'Justice prevails': Activist who graffitied military vehicle has criminal case dropped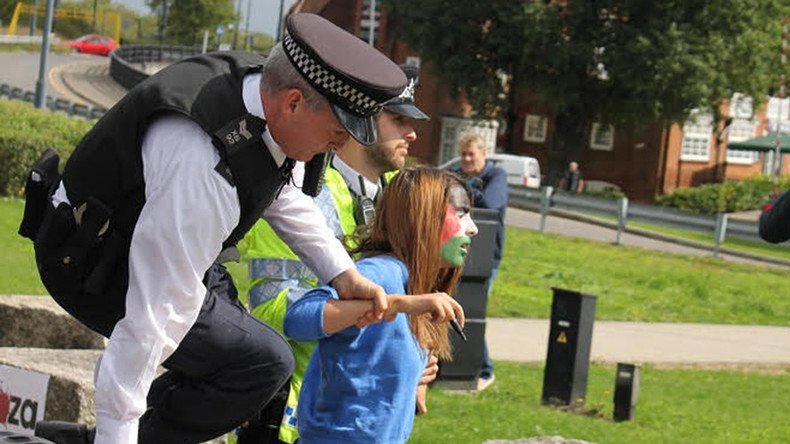 Court proceedings against a peace activist who scrawled "arms tested on children" on a battlefield truck bound for the world's biggest arms fair have been scrapped.
Vyara Gylsen, 28, was arrested in September and charged with criminal damage after she graffitied a military vehicle that was en route to the Excel Center in east London. The exhibition space was being prepped for the Defense & Security Equipment International (DSEI) weapons fair, scheduled to take place there the following week.
The fair is held every two years in London, and is regularly attended by representatives from repressive regimes. It has also previously provided a platform for weapons dealers to illegally promote arms that are used for torture.
'War for peace is counterintuitive'
Gylsen was one of many peace activists who blockaded the Excel Center to highlight the destructive impact of UK weapons sales. She had mounted the military vehicle outside the center as it made its way into the venue.
After writing on the truck with a dry wipe marker, the peace activist was hauled away by police and taken to Peckham Police Station, where she was detained for seven hours and eventually charged. She said it was ironic to be charged with criminal damage for using a washable maker to write on a vehicle that could be used to cause mass devastation.
"Would the arresting officer have the guts to rugby tackle any of the war criminals, arms dealers, or those who use arms to kill people?" she said.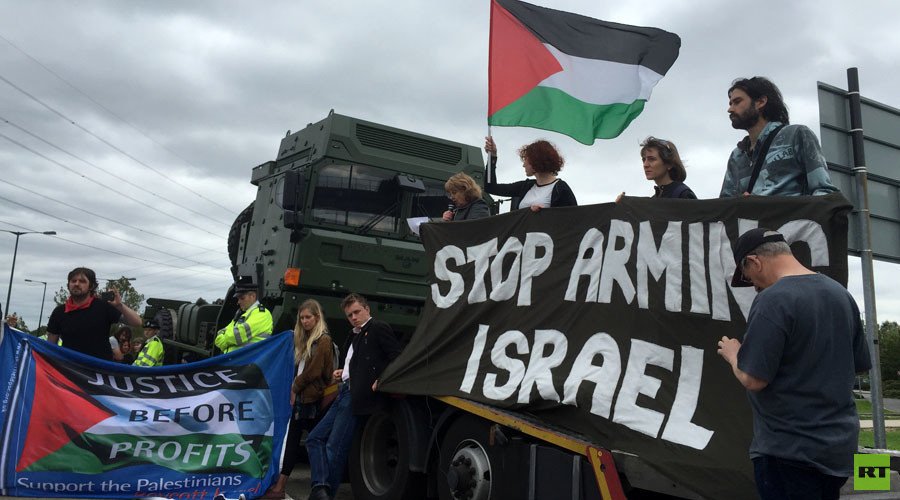 Gylsen welcomed the CPS' decision to scrap the case against her, but said the move may have been sparked by the government's desire to avoid scrutiny of Britain's role in arming Israel.
"The Israeli government is violating international law, while using UK weapons to maintain an apartheid-like regime against Palestinians," she said.
"War for peace is counterintuitive. There should be political, economic, and humanitarian strategies for conflict resolution."

Gylsen called on the government to stop arming Israel, and take responsibility for the impact of its global arms sales.
"Despite numerous breaches of international law, Israel continues to have impunity over its actions. It's about time Britain takes meaningful actions other than words to hold Israel accountable, as we do with Russia," she said.
In a message to Palestinian and Israeli citizens, she stressed justice will prevail.
"People couldn't fathom that one day women could have a stake in society and couldn't imagine a future where slavery would be over, but here we are," she said.
"It is possible to achieve change with determination, action, and time. There can be no peace without justice for all, and justice will prevail."
Illegal advertising
Several arms companies that make components for cluster munitions had stalls at the DSEI 2015 weapons fair. One such firm, Miltech Hellas S.A., is based in Greece and makes electronic fuses that can be used in cluster bombs. Cluster munitions are illegal under international humanitarian law, and have a devastating impact on civilian populated areas due to their indiscriminate nature.
South African arms firm Imperial Armour, which advertises an Anti-riot Shock Belt on its website, was also among the list of exhibitors present at the fair. Under EU arms trade regulations, electric shock belts are prohibited because they are often used for torture.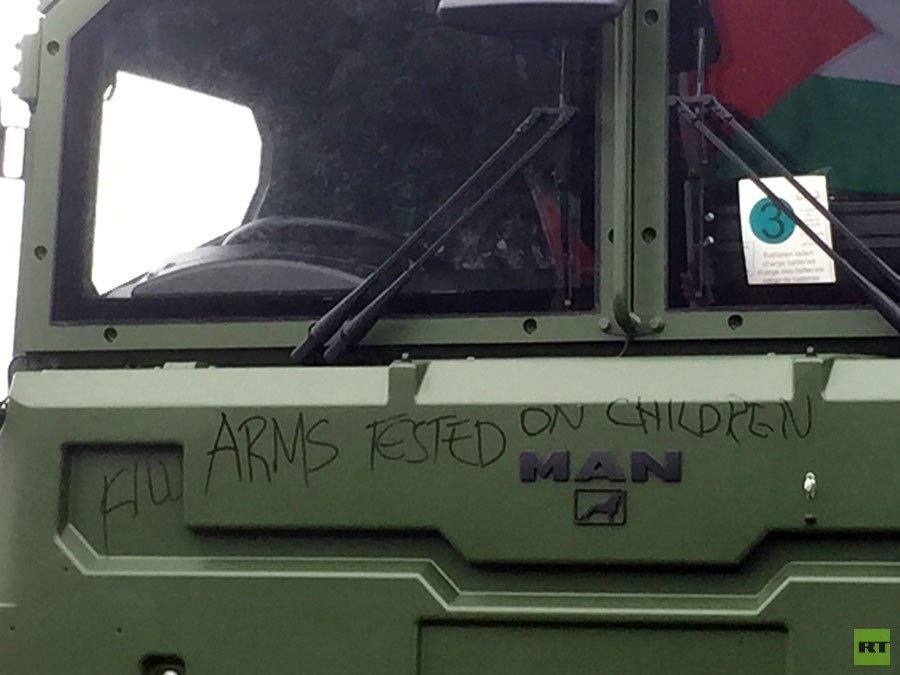 Although there is no evidence that Miltech Hellas was promoting components for cluster munitions or Imperial Armour was advertising electric shock belts, the precise collection of military wares advertised at DSEI 2015 is not publicly known. Because Amnesty International (AI) UK's expert on military, security, and police, Oliver Sprague, was denied access to the event, he was unable to monitor the weapons advertised there.
Sprague had previously attended a number of DSEI arms fairs as a weapons monitor, and in 2009 spotted a firm from Pakistan that was unlawfully advertising cluster munitions. Illegal advertising activity was also uncovered at DSEI in 2005, 2007, 2011 and 2013.
UK arms sales to Saudi Arabia
Glysen's lawyer, Raj Chada, said his client's actions were justified in light of DSEI's long history of illegally promoting weapons.
The barrister, who specializes in human rights law, said arms were illegally promoted in the last four DSEI weapons fairs, some of which are used for torture. He also said that weapons, which may have been used to commit crimes against humanity in Yemen were advertised at DSEI 2015.
UK weapons sales to Saudi Arabia have generated almost £7 billion since 2010. Amid mounting concern that UK-made arms have been used to commit war crimes in Yemen, calls have increased for the government to suspend all weapons sales to Saudi Arabia. However, Downing Street has refused to do so and insists that UK's arms exports to Saudi Arabia are legitimate.
The government's justification for continuing to arm Saudi Arabia was sharply contradicted in December by international law experts who said UK arms sales to the Gulf state are breaching British, EU, and international law.
The lawyers told Amnesty International and Saferworld that Britain's continued transfer of arms to Saudi Arabia violates the government's obligations under the UK's Consolidated Criteria on arms exports, the EU Common Position on Arms Exports, and the Arms Trade Treaty.
You can share this story on social media: