Cologne-style rape gangs, vulnerable borders, migrant hoards… another day in the Brexit debate
Published time: 30 Mar, 2016 13:09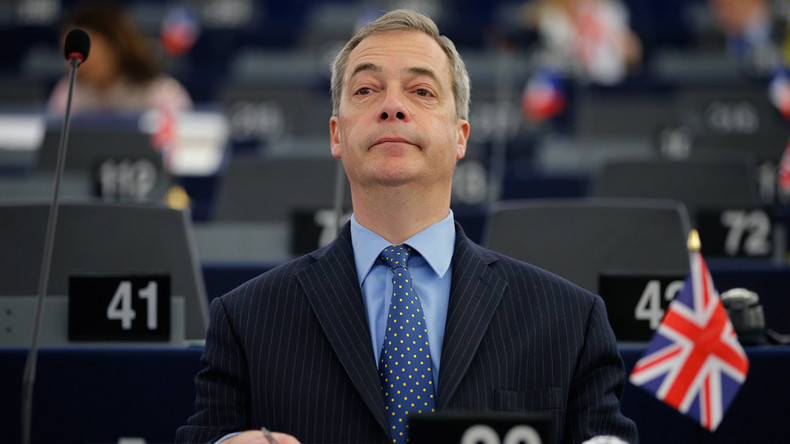 EU rules make UK borders vulnerable and risk bringing Cologne-style rape gangs to British cities, prominent anti-EU campaigners have claimed in the latest exchange of fear mongering and moral panic ahead of the Brexit referendum.
Speaking at a meeting of the Grassroots Out campaign in Wales on Tuesday, UKIP leader Nigel Farage said EU rules risk importing mass rape gangs to British streets, like those reported in Cologne during New Year festivities.
It was alleged at the time that gangs of refugee and migrant men were hunting women in public areas and singling them out for sexual assault.
'Remainions'
Farage said a hundred years of "female emancipation and liberation" are at risk, singling out the German leader Angela Merkel for allowing in "huge numbers of young males" from counties where "women are at best are second class citizens."
"What we saw outside that train station in Cologne on New Year's Eve was truly and genuinely shocking," he said, warning that Britons should not be "surprised if scenes that we saw in Cologne don't happen more often."
He also blasted the UK government for not controlling borders properly and mocked pro-EU campaigners as "Remainions" – in reference to the recent arrival of Romanian migrants in the UK.
He claimed that EU free movement had led to "this horrendous terrorist wave that we are seeing" and said it is time "to take back control of our country and its borders."
EU border policy
Tory Justice Minister Dominic Raab made a similar argument on Wednesday while addressing Vote Leave activists at a central London rally, warning that EU laws hinder intelligence agencies.
"We cannot bar individuals on whom we have sketchy intelligence but reason to believe may be linked to terrorist related or other serious criminal activity. Or who may have done something which gives rise to questions, such as visiting Syria, without a clear or credible reason," said Raab.
He said the EU set the bar for stopping people at the border "impossibly high" meaning "we effectively have to give a free pass into Britain to those coming from the EU."
'1.6 million migrants'
Pro-Brexit campaigners pointed to Office for National Statistics data, released following a request by Tory MP Anne Main, which shows 1.6 million migrants settled in the UK between 2006 and 2014.
Main told the Daily Mail on Tuesday the figures are worrying "because they don't take into account all immigration from the EU.
"This is the choice faced by Britain on June 23: from today until the polling day, the UK will need to find housing, hospitals and schools to accompany a new town the size of Canterbury, Torquay or Folkestone," she added.