Petition to ban 'dangerous' Cameron from re-entering UK receives over 23k signatures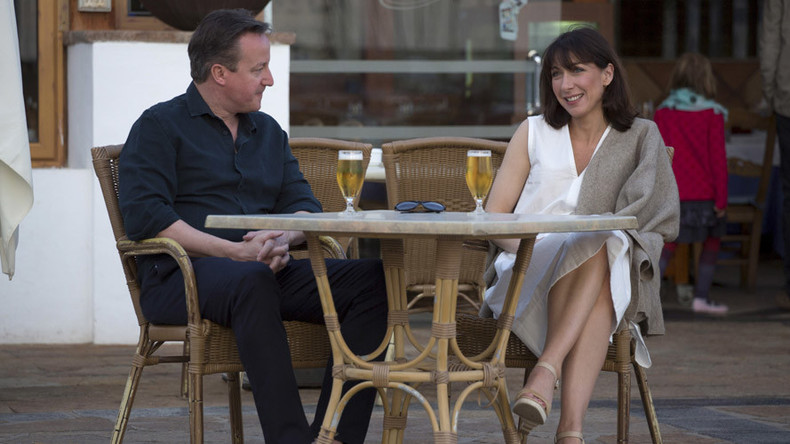 More than 23,000 people have signed a petition to stop British Prime Minister David Cameron from re-entering the UK after his Easter holiday in Lanzarote, claiming he presents a "clear and present danger" to the country.
"David Cameron presents a clear and present danger to the short, medium and long term interests of the country. As such, the UK should institute a temporary ban on his return to Britain at the conclusion of his holiday in Lanzarote," says the petition, which is addressed to Home Secretary Theresa May.
At the time of publishing, the petition had received 23,067 signatures.
Many of the petition's signatories commented beneath the document, with supporter Michael Thorpe writing that "David Cameron is a bigger threat to the people of the United Kingdom than any terrorist organisation."
Another supporter, Lydia Paris, wrote that Cameron is a "danger to humanity, and pigs," referring to #PigGate allegations that Cameron stuck his private parts in a dead pig's mouth when he was a student at Oxford University.
The petition was launched by independent journalist Kerry-anne Mendoza. A former consultant for the NHS and the banking sector, Mendoza left her former career to join the Occupy movement in 2011 and has since become known for challenging austerity and neoliberal politics.
David Cameron has faced criticism for his decision to vacation in Lanzarote just weeks after appealing to the British public to spend their Easter holidays in the north of England, to help the region bounce back from recent flooding.
Liberal Democrat leader Tim Farron led the pack when it came to criticizing Cameron's holiday destination.
"The prime minister has jetted off already for a few days' relaxation in Spain...so while the prime minister ignores his own comments about visiting the North, what I am saying is that we are open for business and I urge people to come and visit and see some of the beautiful scenery in the country.
"But for everyone else the added bonus is that you seem guaranteed not to bump into him," Farron said, as quoted by the Telegraph.
You can share this story on social media: