UK funding Ethiopian spies who snatched Londoner & put him on death row
Published time: 21 Mar, 2016 16:08
Edited time: 21 Mar, 2016 18:46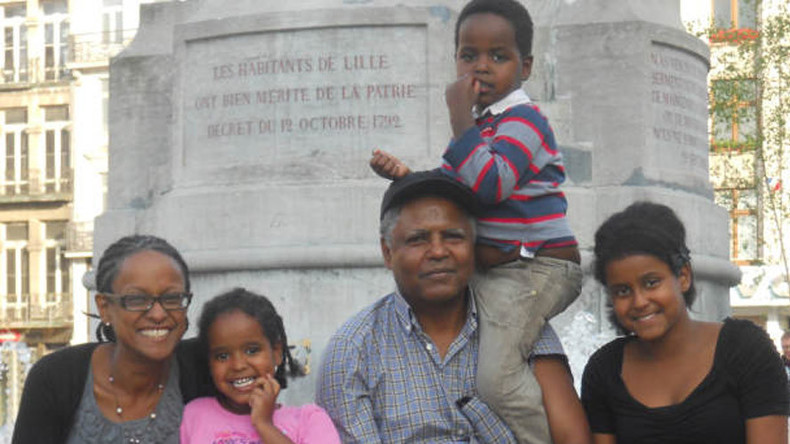 The British Government is funding the training of Ethiopia's intelligence services, responsible for the incarceration and rendition of a father-of-three from London who now faces the death penalty.
The funding has sparked concerns that the UK could be inadvertently supporting the covert Ethiopian intelligence operatives who kidnapped Andargachew 'Andy' Tsege in 2014.
Tsege, who has been branded Ethiopia's 'Nelson Mandela' by his supporters, fled the country in the 1970s after becoming a target over his political beliefs, eventually gaining asylum in the UK.
An Ethiopian court sentenced him to death in absentia in 2009, and in 2014 Ethiopia's government admitted it had kidnapped him while he was waiting to catch a flight in Yemen.
After being forcibly transferred to Ethiopia, Tsege has remained in illegal detention ever since.
UK Prime Minister David Cameron will soon pay a visit to Ethiopia to discuss "security issues," according to Ethiopian media. He's expected to take Britain's minister for international development and the UK's homeland security chief with him.
The Ethiopian Reporter also said senior security officials in Ethiopia had taken master's degree courses on security studies. Reprieve, which is assisting Tsege's family, says the courses were fully funded by the British government.
Head of the death penalty team at Reprieve Maya Foa expressed serious concern about where money is being sent.
"This funding raises potentially serious questions over the UK's approach to Ethiopia's security forces – forces who were responsible for the kidnap and rendition to Ethiopia of British national Andy Tsege in June 2014," she said.
"Whilst there is of course a place for legitimate security cooperation between Ethiopia and the UK, the government should ensure that the support it provides does not in any way contribute to the abuses that Andy Tsege currently faces."
Foa called on ministers to use Britain's special relationship with Ethiopia to request that Andargachew be released, and returned to his family in the UK.
RT asked the Foreign Office whether it plans to push for Tsege's release, and whether it had funded Masters programs targeted at Ethiopian students who are later recruited in Ethiopian security services.
"The foreign secretary again raised Mr Tsege's case with the Ethiopian foreign minister, in person on 13 February, making it clear the way he has been treated is unacceptable. We welcome the improvement in access to Mr Tsege, following the British Government's intervention, but it must be more regular and it must include access to a lawyer," a British government spokeswoman told RT on Monday.
"Separately, we support training courses that are designed to give members of the Ethiopian military an improved range of skills in non-combat areas while they serve on regional peace missions that are vital to UK interests. The Masters programme is targeted at key students from around the region who play a crucial role in improving the management of security in their countries."
Labour Party leader Jeremy Corbyn, who is Tsege's local MP, said he has written to Cameron to demand Tsege's release.
"It is completely unacceptable that a British citizen should be treated in this way by a state that purports to be a respected member of the international family of nations," he added.
Following careful analysis of a transcript taken during a visit by UK officials to Tsege at Ethiopia's Kaliti prison last December, UK psychiatrist Ben Robinson concluded that detention is taking a serious toll on the 60-year-old.
Robinson, who works as a psychiatrist at South London and Maudslet NHS Trust, told the Independent Tsege's mental health "has declined precipitously since being detained in Ethiopia."
Tsege's partner, Yemi Hailemariam, said her boyfriend's disappearance has caused her and their three children immense pain.
"Since Andy's disappearance, our family has been in agony – all we want is for him to come home," she told the Independent.
"It's deeply worrying to think that, throughout all this, the UK is supporting the same Ethiopian security apparatus that has detained Andy.