'Don't trade refugees!' EU outsourcing human rights obligations to brutal Turkish regime – NGOs
Published time: 18 Mar, 2016 18:46
Edited time: 18 Mar, 2016 19:25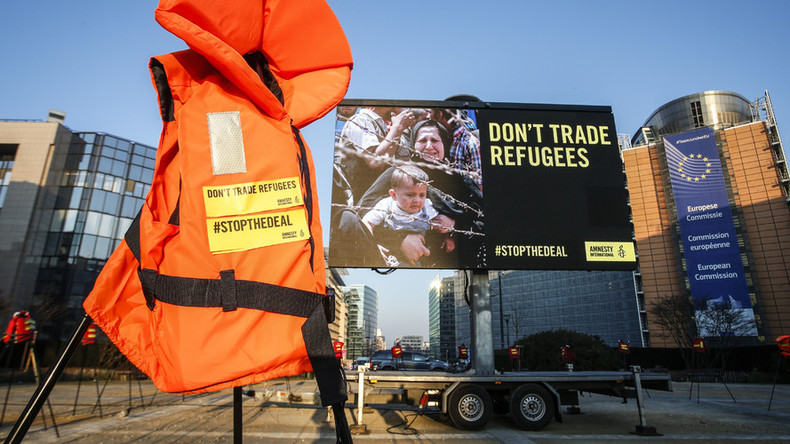 EU states are outsourcing their human rights obligations to a brutal Turkish regime that is becoming increasingly authoritarian as it attacks innocent Kurds, campaigners have said.
The EU-Turkish deal struck on Friday will see all refugees and migrants coming to Europe sent back across the Aegean Sea.
European Council President Donald Tusk confirmed the agreement on Friday afternoon, following talks with Turkish Prime Minister Ahmet Davutoglu. The deal means all migrants and refugees entering Greece as of Sunday can expect to be sent back to Turkey.
In return for allowing refugees to come back through its borders, Turkey can expect "re-energized" negotiations on its EU membership status. The EU has also pledged to hand over €3 billion ($3.4 billion) to assist Syrian refugees in Turkey, with extra projects to be agreed next week.
Speaking ahead of Friday's EU-Turkey summit on migration, Global Justice Now (GJN) Director Nick Dearden said EU leaders have abandoned "any pretense of the EU's principles" and that the bloc is being threatened by Turkey.
"What we call a 'migrant crisis' is actually a crisis of global injustice caused by war, poverty and inequality. To demonize those making a rational choice on the part of themselves, their family and their community obscures the truth," he said.
"Migration is bringing those of us in Europe face-to-face with the reality of the world our leaders have constructed."
The deal, which was approved by 28 EU leaders, will see Turkey resettle thousands of refugees.
Since January last year, hundreds of thousands of refugees entered Greece on boats from Turkey. Greek Prime Minister Alexis Tsipras said a credible EU-Turkey agreement is vital.
German Chancellor Angela Merkel said Turkey must adhere to international standards of protection for all migrants and refugees. Turkish President Recep Tayyip Erdogan hit back, however, saying Europe should examine its own record on refugees before advising Turkey on what to do.
Amnesty International also criticized the agreement. Shortly after the deal was announced, the human rights group placed a large screen outside the Brussels summit which read: "Don't trade refugees. Stop the deal."