Gunman filmed shooting at teens in North London (VIDEO)
Published time: 18 Mar, 2016 15:43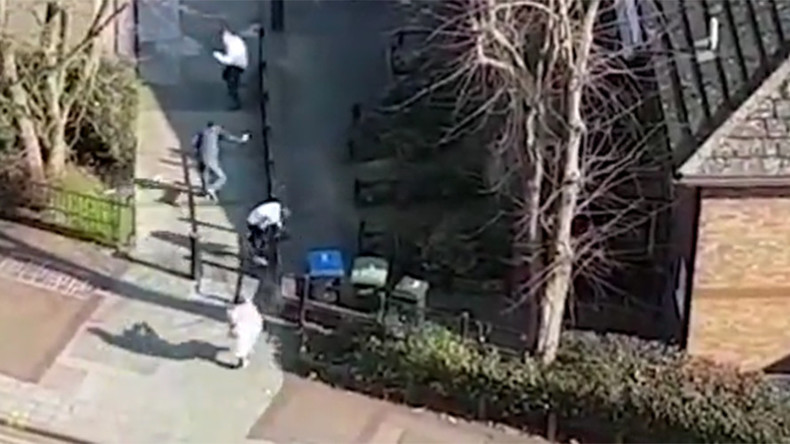 A man appears to chase and shoot at a group of fleeing teenagers in a terrifying video captured in North London on February 17.
The footage, obtained by the Mail Online, is filmed from a balcony in nearby Edmonton shopping center in broad daylight.
The video, which initially shows a scuffle breaking out, quickly escalates as a man appears to brandish a gun.
It shows the gunman chasing a group of four teens out of the carpark, across a busy road and into a residential area.
One victim, who appears to have an injured leg, was unable to outrun the gunman, who fired a shot in his direction.
It is believed the shooter was firing blanks, but blank firearms are still considered dangerous at close range.
The group is filmed retreating to a nearby car as the gunman abandons his pursuit.
As the victims drove away, the attacker, seemingly dressed in a Muslim thobe, fled in the opposite direction.
The cameraman told the Mail Online he started recording without realizing how quickly the incident would escalate.
"I looked over and decided to record it. I honestly thought it was some guys having a punch up or something like that."
"There was a lot of commotion and then these kids broke out of the crowd and ran away and the guy with the gun ran after them and opened fire."
"I couldn't believe what I was filming. I've never seen anything like that outside my house, I was just left wondering what the hell is going on out there. It's London, I don't expect to see that sort of stuff," he told the MailOnline.
Police say they found no evidence of injury as a result of the incident, which occurred shortly after 14:00 GMT.
The Metropolitan Police is appealing for witnesses. No arrests have been made.