'Why I quit the Tories… & took down their website!' Disability activist speaks to RT (VIDEO)
Published time: 18 Mar, 2016 12:42
Edited time: 18 Mar, 2016 13:49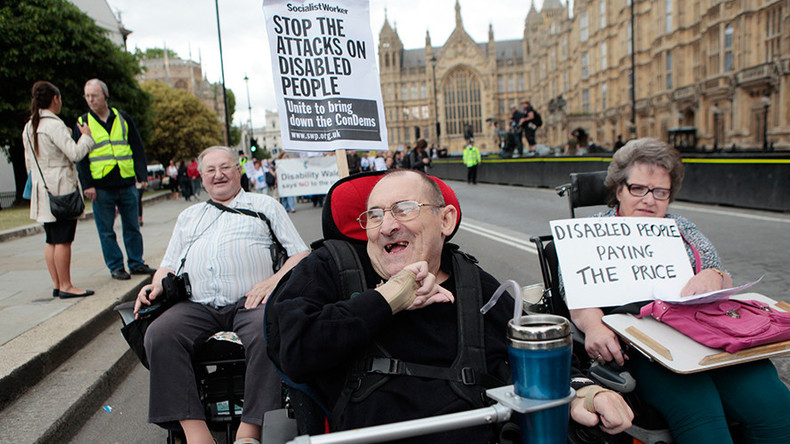 Life-long Tory voter Graeme Ellis, who quit the Conservative Party this week by sabotaging the party's disability group website, told RT in an exclusive interview he acted because he believes the vulnerable are being sacrificed in favour of high earners.
Ellis resigned from the Conservative Party after Chancellor George Osbourne revealed fresh cuts to disability welfare payments.
The 58-year-old campaigner was left "deeply upset" by the Spring Budget, and registered his anger by taking down the Conservative Disability Group's website, which he managed.
"It was a gut reaction, I just decided I needed to do something," he said.
Ellis, who uses a wheel-chair, said the new legislation will take away people's independence.
"They are taking away the resources that vulnerable need to live and to maintain their independence," he said.
Asked why the latest round of cuts was the final straw, Ellis pointed to the inequality of the latest budget measures.
"They reduced the amount of income tax high earners have to pay.
"They can afford to give to those with high incomes, to give them a better lifestyle," Ellis told RT.
The new legislation will see cuts to disability payments for people deemed eligible for work.
The campaigner, who also runs a benefits advice service, said he had received numerous calls from people who have been impacted by disability cuts.
"People are becoming more and more distraught as wrong benefit decisions are made," he said.
The Tories face a full-scale rebellion over cuts to disability payments with 20 backbenchers already raising objections.
Ellis said he is "really pleased" that at last people are "prepared to put their head above the parapet."
The Labour Party is planning to force a Commons vote on the £1.3 billion in disability cuts, which if Tory backbenchers rebel may lead to a humiliating defeat for the government.