Don't lay blame at Russia's feet, UK also fueled Syrian civil war – Oxfam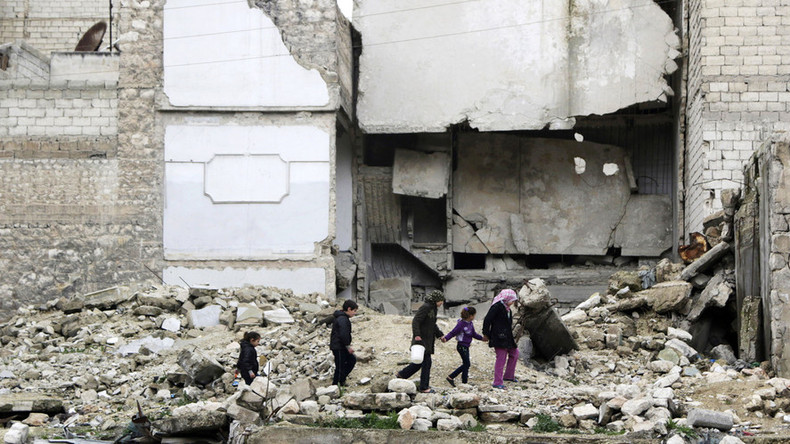 Britain is as guilty of "fueling the fire" of the Syrian conflict as any other state and must ramp up its efforts to bring peace to the Middle East, Oxfam says.
Speaking after the Kremlin announced that it would withdraw troops from the frontline of Syria's conflict, the UK charity warned against blaming just Russia's intervention for the escalation of the conflict since September.
Russia officially entered the conflict six months ago, but confirmed on Monday evening it will scale back its efforts.
Director of the Syria response team for Oxfam Andy Baker said the crisis in Syria is getting much worse as the five year war rages on.
While he echoed UK government claims that Russian bombing missions had caused civilian casualties, he told Sky News "we can't just lay the blame at the feet of the Russians."
"This is a problem that is owned by the whole world," he said.
"It's not only Russia, it is other nations too, Britain among them, that have fueled the fire of this conflict, continuing to support one side or another and failing to deliver peace."

Baker said powerful nations across the globe, including the UK, must focus on bringing an end to the conflict.
"It has gone on five years, which demonstrates the failure to deliver a peace process," he said.
"Part of that has been contributions from a number of nations that have enabled the conflict to continue."
Russia's withdrawal coincides with Syrian peace talks being held in Geneva. The long-awaited talks began on Monday with the aim of bringing about a general election in Syria within 18 months.
British Conservative MP Daniel Kawczynski said he hopes Russia's actions in Syria and the results its operation has achieved will become "a catalyst for reassessment of how NATO and the West can effectively engage with Russia."
"I think our own government here in the UK and many commentators have to catch up with the new position that Russia has taken internationally. Russia has decided to take this risk by intervening in the conflict in Syria. And it would appear it has really paid off," he told RT.
"The sooner my government starts to realize that we have to work constructively with Russia and other permanent members of the UN Security Council to work collaboratively together to take on ISIS [Islamic State] and other trouble spots around the world, the better."
Labour Shadow Foreign Secretary Hilary Benn welcomed the news of Russia's withdrawal from Syria, saying the move could help to dampen tension and support Syria's ceasefire.
But Foreign Secretary Phillip Hammond warned against viewing Russia as a state that is "setting the agenda" in war-torn Syria.
"All the western partners in this enterprise play by the rules of the international system and are transparent in their actions," he said.
"Unfortunately, Russia is a state in which all power is concentrated in the hands of one man. Decisions are made apparently arbitrarily and can be unmade just as quickly."
Hammond also expressed doubt over whether Russia's withdrawal would actually occur. He went on to accuse the Kremlin of blanket secrecy with respect to its foreign policies, saying Westminster can only speculate.