From New Labour to nouveau riche? Tony & Cherie Blair's property empire worth £27m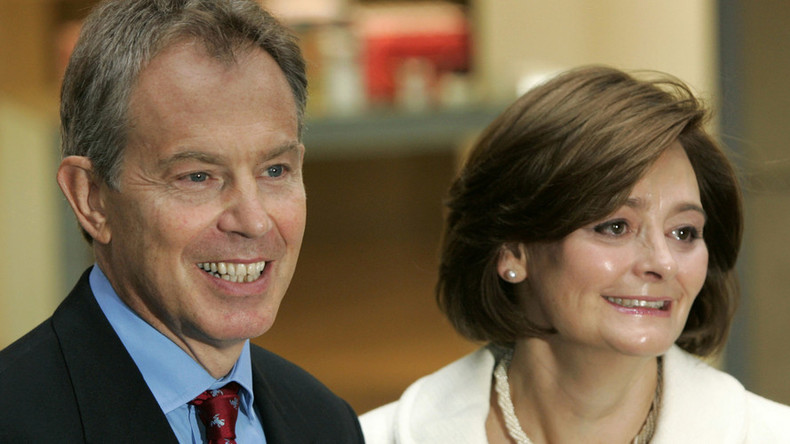 Former UK Prime Minister Tony Blair and his family own a property empire worth an estimated £27 million, it has emerged. The princely portfolio is thought to include at least 10 houses and 27 flats.
Blair has helped his three eldest children on to the property ladder, ensuring each has their own home in central London within a short distance of the Georgian townhouse near Hyde Park bought by the Blairs when they left Downing Street.
In addition to London homes, the Blair family also owns properties in Buckinghamshire, Manchester and Stockport, according to research by the Guardian.
Tony Blair amassed a considerable fortune after leaving politics in 2007, with some estimates putting his total net worth at £60 million, according to a detailed analysis published by the Telegraph last year.
Land registry records indicate Blair's family has also amassed wealth over the past decade.
Daughter Kathryn Blair used to live in a small house bought for her for £975,000 in 2010, but after being mugged outside the flat she moved into a mews property next to her brother Euan's marital home, a grand £5 million six-story townhouse.
Tony and Cherie Blair own a Georgian townhouse on Connaught Square, just a short walk from Hyde Park. The property, along with the house behind it, is now worth £8.5 million – double what Blair paid for it in 2004.
Cherie Blair and the couple's eldest son Euan also own a 50-percent stake in Oldbury Residential, a property development firm that has a portfolio of buy-to-let flats in the North West.
According to the company's filings, Oldbury Residential owns 27 flats with mortgages totaling just under £2.2 million.
Average house prices doubled in the UK during Blair's decade in Downing Street, making home ownership a distant dream for the majority of young people.
Blair's fortune has come under scrutiny in recent years, after his business transactions were linked to the governments of Saudi Arabia, Azerbaijan and Kazakhstan – all three of which face allegations of human rights abuses.
He also worked for energy company BP, advising on a new gas pipeline to connect Azerbaijan with Turkey and Italy.
The former PM continues to air observations on politics in the UK and abroad, recently admitting he is baffled by the popularity of left-wing politicians Jeremy Corbyn in Britain and Bernie Sanders in the US.
Commenting on the platform of Democratic presidential candidate Sanders, Blair said: "Free [university] tuition fees: well, that's great, but someone's going to have [to] pay for it."