5,000 procedures canceled as junior doctors launch 48-hour strike
Published time: 9 Mar, 2016 10:44
Edited time: 9 Mar, 2016 15:54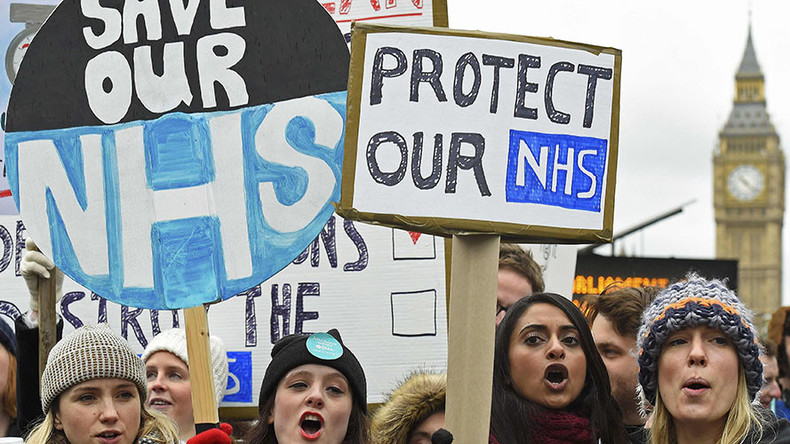 Thousands of medical procedures across England have been rescheduled as a result of a two-day strike mounted by junior doctors, who are protesting against new contracts imposed by Health Secretary Jeremy Hunt.
Some 5,000 operations have been postponed and senior National Health Service (NHS) officials have said the strike will put pressure on existing services.
Anne Rainsberry, NHS England's regional director for London, told BBC Radio 4's Today program: "This is going to be a difficult couple of days for the NHS – there is no doubt that [a] 48 hour [strike] puts significantly more pressure on services. However, I've no doubt the NHS will pull out all the stops as it has done in the other two strikes, to minimize the disruption.
"We are expecting around 5,000 procedures to be affected and need to be rescheduled as a result of the action over the next couple of days," she added.
An Ipsos Mori poll showed that 65 percent of the public support the strikes.
British Medical Association (BMA) Chair Johann Malawana published a blog leading up to the strikes calling for more meaningful negotiations.
"As the government forces us into another round of industrial action, it seriously needs to think whether the pride that has got themselves into this appalling mess is really the legacy they want to leave, or whether trying to find a negotiated settlement is in the best interests of the government, the NHS, patients and all the people of this country," he wrote.
The two-day strike is the third since the New Year and was organized after talks between the government and junior doctors broke down, with Hunt deciding to impose the new contract without agreement.
Previous strikes have focused on adjustments to pay and overtime working hours, which junior doctors said would leave them working longer hours for less pay, despite the government insisting that the new contract would result in a net pay rise of 13.5 percent.
A deal was almost reached during last-minute talks, but eventually they collapsed after both parties refused to compromise on Saturday pay. Currently junior doctors net a premium rate for working on a Saturday, but new government plans would see Saturday treated as a regular working day, meaning doctors could lose out.
Many Labour MPs joined picket lines on Wednesday morning, including Labour Shadow Chancellor John McDonnell and veteran MP Dennis Skinner.
The Green Party has openly backed the strike, and its health spokesperson Larry Sanders called Hunt a "hypocrite."
"The hypocrisy of Jeremy Hunt announcing that he was imposing a contract on junior doctors exactly one year after he 'called time on NHS bullying' is astounding. Those junior doctors are essential to a functioning NHS and they will go on to become leaders of the service. They need to be treated with the respect that they deserve."