3,600 migrants reached Britain in 2015, forced to sleep on concrete floor in freight shed
Published time: 8 Mar, 2016 11:36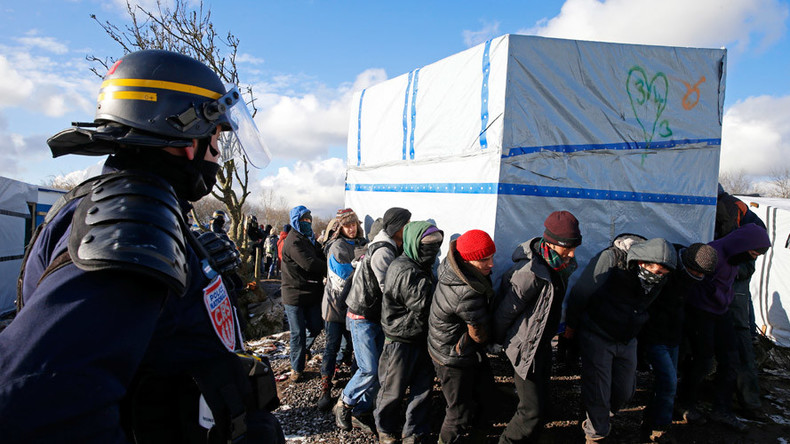 More than 3,600 refugees and migrants arrived in Britain between July and September last year, according to the latest figures, revealing the extent the ongoing crisis is having on British borders.
A report, published on Tuesday by Chief Inspector of Prisons Peter Clarke, found that Home Office facilities in Kent were "initially overwhelmed" by the scale of the crisis and some asylum seekers were treated in "unacceptable" conditions at detention centers.
His report follows an inspection of Home Office facilities used to detain refugees and migrants on the south coast of England. Clarke found that 3,663 individuals were held during the three month period.
Among the individuals detained at centers in Dover and Folkestone were 381 children, many of whom were unaccompanied, the report stated.
"In June 2015, there had been a sudden and substantial increase in the number of such migrants coming through the Channel Tunnel in particular," he said.
"It was clear that the unprecedentedly high number of people arriving from France had led to a strain on the infrastructure."
Many of the asylum seekers had travelled from the 'Jungle' camp in Calais.
The report also found that hundreds of the refugees and migrants picked up by the Home Office were forced to sleep on a concrete floor and were not provided with clothing, food or hot drinks.
It called the conditions "wholly unacceptable."
"Many had had long and arduous journeys ... some had not eaten for very long periods and were hungry. Detainees gestured to us that they were hungry by pointing to their open mouths," he said.
Clarke described the physical condition of the detainees, and said that many of the refugees and migrants were left untreated due to a lack of adequate facilities at the centers.
"Detainees arrived with scabies, headaches and other conditions related to dehydration, such as diarrhea. However, toilet and washing facilities were inadequate and blankets were not washed after each use, presenting obvious health risks. There appeared to be a lack of urgency to transfer detainees from the facility," he added.
The report stated that 569 people, including 90 children, were held in the Longport freight shed in Dover between August 31 and October 3, 2015. Most of the detainees were held for less than 12 hours, but one unaccompanied child was held for over 21 hours.
Clarke recommended closing the holding center immediately to avoid similar situations.