'Stop the witch-hunt!' Justice demanded for murdered Honduran activist Berta Cáceres
Published time: 7 Mar, 2016 18:06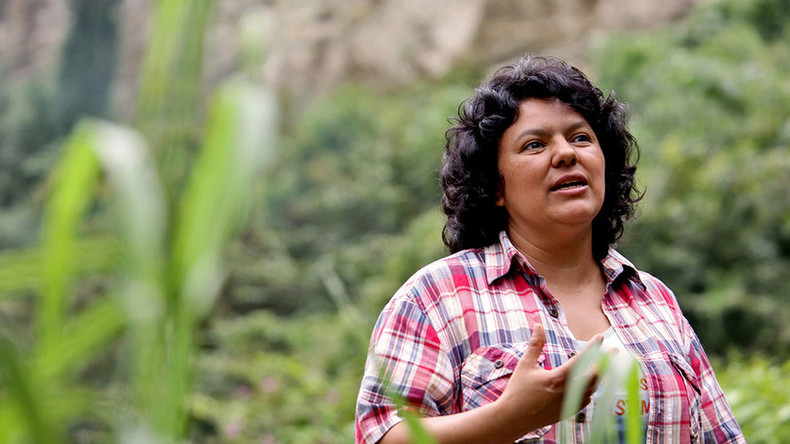 Protesters gathered in London on Monday to demand justice for Honduran indigenous and environmental rights activist Berta Cáceres, who was shot dead on March 3. The criminalization of dissent is widespread in Honduras, despite efforts for change. 
Cáceres was murdered in her home on Thursday night, barely a week after she was threatened for opposing the Agua Zarca Hydroelectric Project.
The controversial Honduran scheme, which is funded by the Dutch government and the World Bank, threatens the natural habitat of Honduras' Lenca tribe. The latest attempt to build along Honduras' Gualcarque River poses a direct risk to the Lenca peoples' livelihood, as well as their local environment.
Campaigners argue the project violates the historical, individual and collective rights of the tribe, while the UN Declaration on the Rights of Indigenous Peoples has declared it to be illegitimate and illegal.
Cáceres was awarded the 2015 Goldman Environmental Prize for heading the resistance against the scheme.
Her campaign work had left her facing heavy harassment, which worsened after Honduras' 2009 coup d'état. Included in this torment were death threats from the Honduran National Police and judicial persecution.
The harassment endured by Cáceres eventually pushed the Inter-American Commission on Human Rights to demand protection measures for her. However, the group's efforts were in vain, as the environmental activist was assassinated in her home on Thursday night.
The criminalization of campaigners and reporters in Honduras is widespread, despite national and global organizations' effort to change the status quo there.
Honduras' president has requested the UN High Commissioner for Human Rights support an investigation into Cáceres's untimely death.
Demonstrations and vigils are being held across the world this week to honor Cáceres and demand her murder be investigated thoroughly.
Speaking at the vigil in London, a spokeswoman for the Central American Women's Network said "the truth cannot be silenced."
Others said the Honduran government can no longer "look away" and contribute to this "witch-hunt."
They called for Honduras' government to stop criminalizing dissent and allow campaigners to exercise their democratic right to protest.