Belfast primary school bomb threat declared hoax
Published time: 7 Mar, 2016 13:39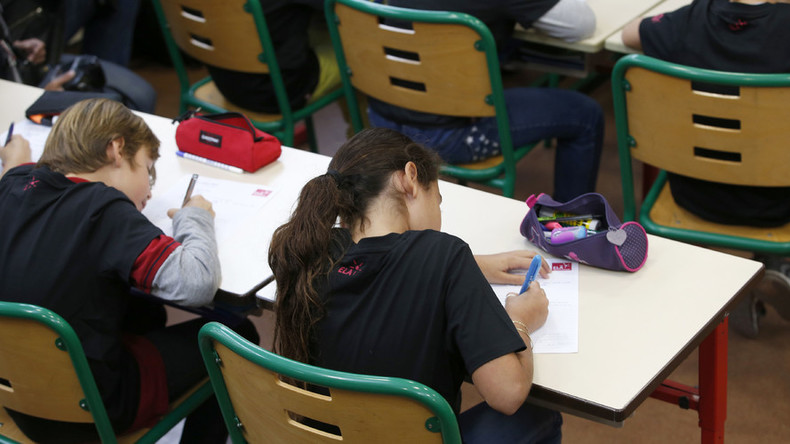 A bomb threat which prompted the evacuation of a Belfast primary school has been declared a hoax, police have confirmed.
Christ the Redeemer Primary School was evacuated on Tuesday after a "suspicious device" was found nearby, just days after a bomb blast seriously injured a Belfast prison officer.
READ MORE: West Belfast on high alert second time as police find 'viable' suspicious object
The security alert has been declared over and police have now reopened the area around school, in the west of the city, after investigating the incident.
"The item examined by the ATO was found to be a hoax," the Police Service of Northern Ireland said on its official Twitter page.
There's a security alert in Lagmore Drive, Dunmurry. Suspicious object found in vicinity of local primary school, Christ the Redeemer.

— PSNI (@PoliceServiceNI) March 7, 2016
Security alert in Lagmore Drive, Dunmurry is over. Item examined by ATO was found to be a hoax.

— PSNI (@PoliceServiceNI) March 7, 2016
The alert disrupted the funeral of Patrick McDonnell, the Belfast man killed in a car accident in America last month.
Local Northern Assembly member Jennifer McCann told UTV the incident will cause "a lot of anxiety" for local parents as the city grapples with the second bomb alert in two days. A bomb was discovered in the Derry area of the city on Sunday evening.
She said: "This is absolutely disgraceful, whoever was behind this.
"We don't know a lot of detail about this device but I have been speaking to the PSNI and the school and certainly it has caused major disruption for the children, teachers and also parents.
"There's a lot of anxiety for them, listening to this news and wondering if their children are safe."
The city has been on high alert on and off throughout the weekend since a bomb blast injured a prison officer last Friday.
READ MORE: Easter Rising 2.0? More attacks likely after East Belfast car bomb wounds prison officer
The bomb detonated under the 52-year-old officer's van as he was driving to work. The New IRA, one of the main republican dissident terror groups in Northern Ireland, has claimed responsibility for the attack, telling the BBC it intends to target other prison staff.