Easter Rising 2.0? More attacks likely after East Belfast car bomb wounds prison officer
Published time: 4 Mar, 2016 12:57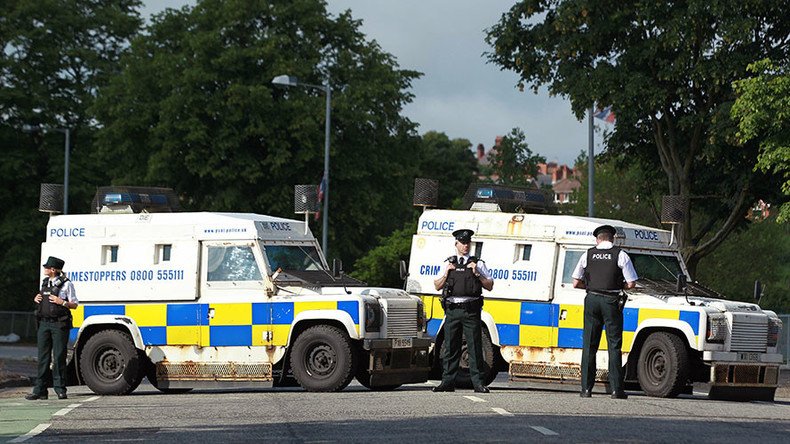 A car bomb that wounded a serving prison officer in East Belfast on Friday morning may be just the first of many attacks in the run-up to the 100th anniversary of Ireland's Easter Rising, police have warned.
"I believe another attack is highly likely," Assistant Chief Constable Stephen Martin told Reuters on Friday.
"There are people within dissident republican groupings who want to mark this centenary by killing prison officers, police officers or soldiers," he added, warning that the threat of more attacks was "extremely high, at the upper end of severe."
Friday's bombing occurred shortly after 07:00 GMT in the Woodstock Road area. Police say the device detonated under a van, which the prison officer was driving.
"At this time we believe a device has exploded under a vehicle … One man has been taken to hospital," Police Service of Northern Ireland (PSNI) Superintendent Darrin Jones said in a statement.
"We can confirm that the man injured following the explosion of a device under his van is a serving prison officer," a police spokeswoman told the Daily Mirror in a separate statement.
The man's injuries are not thought to be life threatening.
Thoughts and prayers are with the Prison Officer who was hurt this morning in a Bomb Explosion

— Helen Smyth PUP (@HelenPUPNI) March 4, 2016
Progressive Unionist Party (PUP) councilor John Kyle condemned the attack, calling it an "attempt to drag us back to the past."
Suspicion may fall on dissident republican groups, which have been active in recent years.
In 2011, prison officer David Black, a father of two, was shot dead on his way to work at the high security Maghaberry Prison, at which political inmates have long clamored for separate status from other prisoners.
Black's murder was attributed to the New IRA organization.
The threat of sectarian violence in contested Northern Ireland remains high, with a study from May 2015 suggesting Belfast is one of the most at-risk cities for terrorism in Europe.
In March 2015, it was reported that British Special Forces are once again operating in the region.
According to intelligence sources quoted in the Daily Star newspaper, up to 60 members of the Special Reconnaissance Regiment (SRR) are active in the region.
An anonymous security source described the unit's role as "close, aggressive surveillance."