Activists block Westminster Bridge demanding support for refugees in Calais (VIDEO)
Published time: 5 Mar, 2016 21:02
Edited time: 6 Mar, 2016 11:37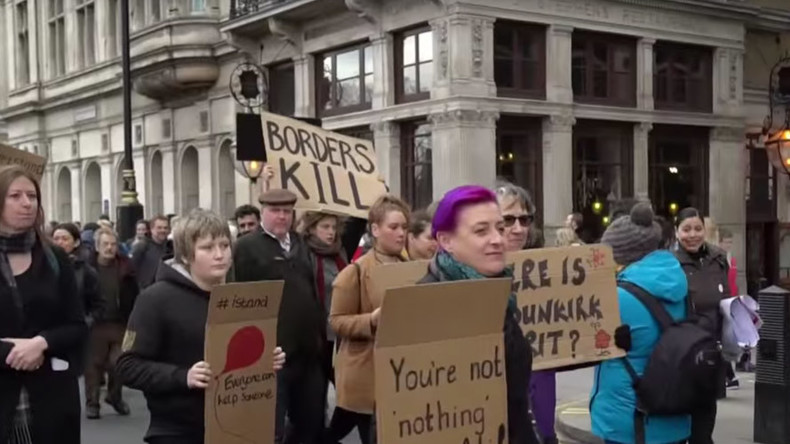 Around 100 pro-migrants activists have blocked Westminster Bridge in London demanding thatthe British government do more to support refugees and migrants – especially those from the so-called Calais "Jungle" migrant camp.
"Borders kill", "Refugees are human. Are you?" and "David Cameron, your decisions are killing people!" said the protesters' banners.
The activists blocked Westminster Bridge with a banner saying "Safe passage for refugees".
They also chanted "Brick by brick, wall by wall, fortress Europe has to fall!"
"All human life matters, there should be no comparative value on this based on where you are born," one of the activists shouted to the crowd.
Police officers escorted the protesters away from the bridge without resorting to violence.
The refugee camp in the French port of Calais emerged last year. It is essentially a temporary home for over 5,000 asylum seekers who hope to cross the English Channel to get to the UK which seems a more attractive country for them than France.
French authorities have recently started the demolition of the southern part of the camp which resulted in a number of clashes between police and refugees trying to defend their temporary shelters in the camp.
Last year more than a million of migrants and refugees arrived in Europe to seek asylum. Great Britain accepted only about 39,000 asylum seekers.