Buying their way to power? Tories face allegations of undeclared campaign spending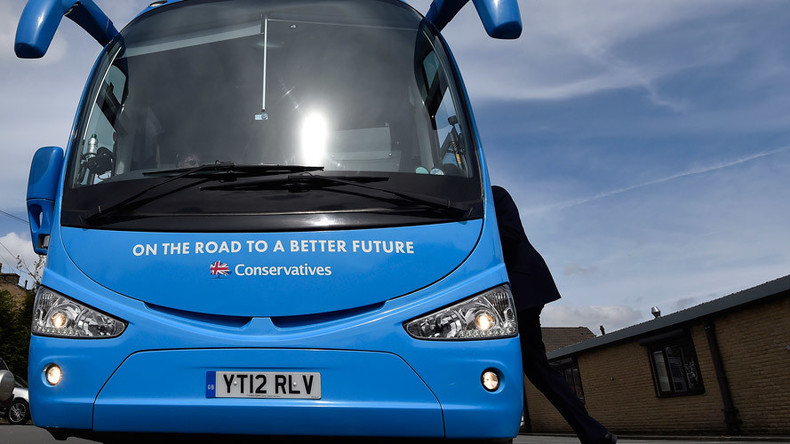 Conservative Party headquarters faces allegations of breaching spending rules in last year's general election after a bundle of undeclared receipts, totaling more than £94,000, was discovered.
Tory MPs may have overspent in order to win 24 seats, according to an investigation by the Daily Mirror.
The newspaper published an article calling on the Conservative Party to address allegations that MPs failed to declare thousands of pounds spent on bussing Tory activists to marginal constituencies.
The accusation comes after Channel 4 News obtained more than £94,000 (US$130,000) worth of hotel receipts from the party, accumulated over three campaigns.
Not one of the receipts appears to have been declared in official campaign spending returns.
According to the Daily Mirror, the Conservative Party has said "all spending was recorded in accordance with the law."
The party is already being investigated by the Electoral Commission over claims of exceeding spending limits in three by-elections in 2014 – Newark, Clacton, and Rochester and Strood.
The watchdog was already planning to examine allegations surrounding the Tories' failure to declare £20,000 spent on hotels in the fight against UKIP leader Nigel Farage in South Thanet last year.
Kate Woodland, a Conservative Party campaign manager for Telford, told Channel 4 News she was put up in a hotel for two nights, an expense which does not appear on official declarations.
"I would say, based on the evidence I've seen, the fact that it happened in three by-elections, one after the other, it's systematic. And they know the law. They've been running elections for years.
"To do it three in a row, and to do it pretty big in a couple of places means there was full intention behind it. If they'd gone over by a couple of rooms because they miscalculated, you know £30 or £40 accidentally, that's different.
"To six, seven, 40, 50, thousand pounds. You can't do £50,000 accidentally."
In a separate corruption scandal to engulf the Conservative Party, a Tory MP has become embroiled in a cash for access scandal after it was revealed he sponsored a parliamentary pass for a lobbyist whose company paid him thousands of pounds.
Laurence Robertson received £10,000 from consultancy firm Westminster Parliamentary Research LLP for services between 2009 and 2010.
The firm's founder, Jennifer Bryant-Pearson, received a pass sponsored by the MP in 2015 under the name of a second company which she also set up, JBP Public Relations.
Although Robertson has no direct connectionwith Westminster Parliamentary Research or JBP Public Relations, he does sit on the advisory board of Veolia Environmental Services, one of JBP's main clients.
Robertson said there was no connection between the payments he received from Bryant-Pearson's company and her access to Parliament.
"Jennifer Bryant-Pearson held a Parliamentary pass through me from 6th January 2014 to 30th March 2015.
"There was therefore a gap of almost four years between the ending of my consultancy work with the company and her obtaining a pass.
"During the months she held the pass, Ms Bryant-Pearson carried out work supporting All Party Groups, secretarial duties, publicity, arranging and attending meetings and translation services."
You can share this story on social media: