Child poverty to rise under Tory austerity over next 5 years – report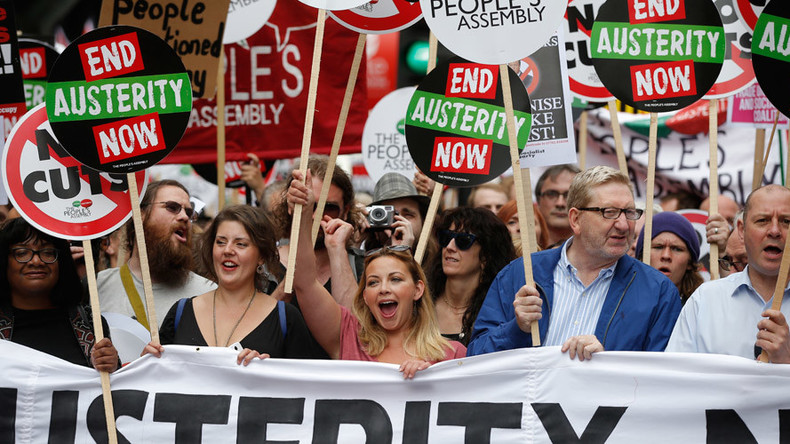 Tory cuts to benefits and tax credits will lead to a rise in the numbers of children living below the poverty line, according to a new report by a top economic think tank.
The research, conducted by the Institute for Fiscal Studies (IFS), predicts families with three or more children will be hardest hit as the Department for Work and Pensions rolls back support for larger families.
Although 400,000 kids were lifted above the poverty line last year, the researchers forecast the total number of children living in poverty will reach 2.6 million by 2020-2021. The proportion of children in relative poverty will rise by eight percentage points and those living in absolute poverty by three percentage points.
While the incomes of those at the top are expected to increase at a steady rate of 2.3 percent per year, poorer families will face five years of zero growth in incomes, widening the income inequality gap, the research revealed.
In contrast to children and working people, pensioners will continue to see a steady improvement in their incomes.
One of the authors of the report, James Browne, said: "Following an historically slow recovery in living standards after the recession, stronger growth in household incomes at all income levels over the last two years will have been welcome news.
"For some, particularly the better off and pensioners, this is likely to continue over the next five years as earnings and state pensions grow more quickly than inflation.
"But the prospects are not so good for others, including large families with low incomes, who will bear the brunt of planned benefit cuts."
Labour Shadow Chancellor John McDonnell said the findings prove that Tory Chancellor George Osborne's economic recovery plan is "built on sand." He said the report should "shame" Osborne into halting the planned cuts.
"As the report clearly states, the government's planned tax and benefit changes are a major reason for these rises in relative and absolute poverty over the next five years.
"If you could take out the Tory planned regressive reforms then you would be able to take out the Tory increases in child poverty too."