Osborne's economic plan flawed, Britain may need more austerity – IFS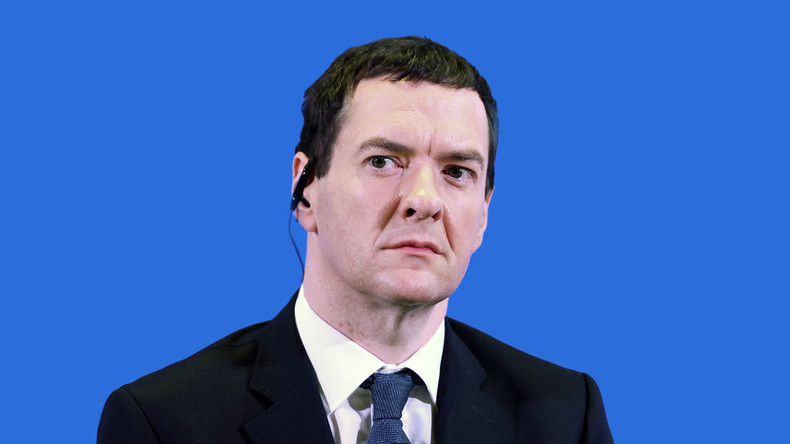 Chancellor George Osborne's new fiscal regime is deeply flawed and will either have to be suspended or will involve more punitive austerity, the Institute for Fiscal Studies (IFS) has warned.
The think tank made the assessment during its annual "Green Budget" event held in central London on Monday.
The event, which was organized in association with the Institute of Chartered Accountants in England and Wales, involved discussions on the government's austerity agenda, related risks to public finances, the state's corporate taxation policy and welfare reforms.
The new fiscal regime, which has been sharply criticized by economists, is called the Charter for Budget Responsibility. It requires the government to run a budget surplus by 2020 and works to maintain a surplus in "normal" economic times – or when GDP growth is higher than 1 percent.
Speaking at Monday's event, the IFS said Osborne faces a difficult choice: impose more painful austerity or suspend the charter altogether. The think tank, which seeks to better inform public debate on economics, said that Osborne's economic plan is plagued by "severe limitations" because it would likely require him to implement "sharp adjustments" in public spending as a result of forecasting errors made by the Office for Budget Responsibility (OBR).
The think tank estimates there is a 25 percent chance Osborne will need to enforce in-year spending cuts or tax rises in 2019/20 if a surplus for that year is to be achieved.
Echoing the criticisms of a number of independent economists, the IFS said the new fiscal plan, as distinct from regimes employed under the last two governments, does not allow for productive spending of state capital. The IFS also said it is strange that the charter fails to include the cost of credit available to the government.
The IFS saying Osborne will have to raise taxes to meet his targets ought to matter politically. But it doesn't. That's how bad Labour are.

— Philip Collins (@PCollinsTimes) February 8, 2016
In his 2015 budget speech, Osborne claimed his fiscal charter was pragmatic and sensible and would keep Britain's economy secure. It was written into law in October. Although Labour Shadow Chancellor John McDonnell initially expressed support for the charter, he later changed his mind and led opposition to it in parliament.
In an unexpected move, the OBR gave Osborne more fiscal leeway during November's Autumn Statement. The body made the decision to do so when it revised its predictions for tax revenues over the next four years.
However, the IFS says a number of potential threats to the health of the state's public finances remain. Among these, are weaker wage growth and falls in share prices, which could drive down tax revenues, the think tank says.
The IFS estimates Osborne must come up with almost £8 billion to follow through on his pledge of an increase in the minimum threshold for higher-rate income tax to £50,000 by 2020.
"With promises on tax cuts to keep and pay for and pressure on revenues from a number of taxes there may be more tough decisions to come," IFS director Paul Johnson said.
"How [Osborne] responds to any further unpleasant fiscal surprises may ... come to define his period as Chancellor."
The Treasury declined to comment on the IFS's criticism of the charter. However, a government spokesperson said Britain must stick to its plan of cutting the deficit.
You can share this story on social media: