British airstrikes not doing much against ISIS in Syria – defense secretary
Published time: 1 Mar, 2016 13:27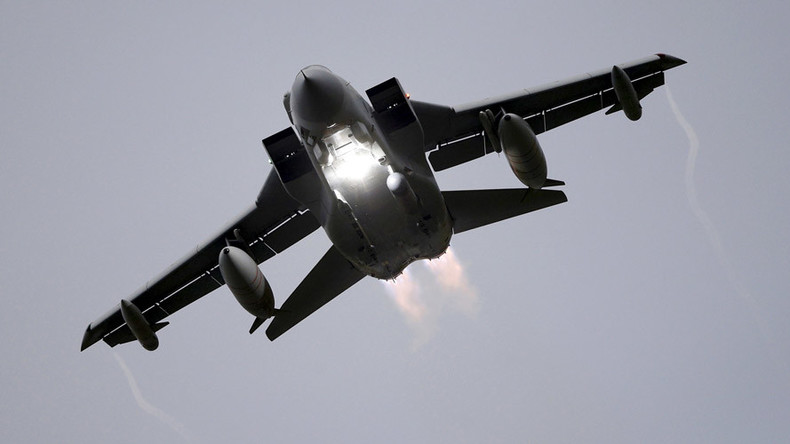 British airstrikes aren't doing much for the fight against ISIS in Syria, admitted UK Defence Secretary Michael Fallon. He did add there was "no doubt" that the Islamic State was losing ground in neighboring Iraq, however.
"Daesh [Islamic State or IS, formerly ISIS] are being pushed back in Iraq, there's no doubt about that – they're being pushed up the Tigris and they're being pushed back West along the Euphrates," Fallon said addressing the House of Commons on Monday.
"In Syria, the position is much more complicated. We are concerned at some of the more recent reports that may suggest coordination between Syrian Democratic Forces (SDF) and the Assad regime, which is not helpful to the long-term aim of defeating Daesh."
The SDF is a loose coalition of rebel groups purportedly also fighting IS.
Fallon commended joint efforts with Iraqi and Kurdish forces to liberate Tikrit, Baiji, Ramadi and other prominent cities. However, he said that "that is not happening yet in Syria," and said he was "extremely concerned about the proliferation of Daesh along the Libyan coastline."
The British have been conducting strikes since December. And while Fallon believes the UK plays a key role in pushing IS back, the RAF has taken out just seven militants in Syria as of last month.
Prime Minister David Cameron was earlier touting the high-tech Brimstone missile he said would be a massive decider in the victory against the terrorist group, but Brimstone wasn't up to the task. Two weeks have passed since the MoD revealed the air-to-surface missiles had been fired nine times in February, costing £100,000 (US$140,000) a pop, together with homing and guidance technology.
And the sophisticated missiles lay dormant for at least a month after the UK government had given the go-ahead for a Syria operation.
The fact of Brimstone's failure was revealed by the Huffington Post through an FOI request to the UK Ministry of Defence (MoD).
"We are playing a crucial role in a campaign that will take time and patience. Using the right weapon for each scenario, RAF jets have struck Daesh almost 600 times," a British MoD spokeswoman said in mid-February, adding that the RAF is driving the IS out of Sinjar and Ramadi in Iraq and has "severely weakened" key terrorist infrastructure in Syria.
However, she also added then that killing terrorists wasn't the primary goal in Syria – but rather destroying oil infrastructure. This had some questioning whether the expensive Brimstone – with its high speed, range and precision – was really necessary for a fight with no moving targets. And even if a vehicle with terrorists inside needed to be struck occasionally, is it really worth £100,000?
Commenting on Cameron's Syria strategy, MP for the Scottish National Party (SNP) Alex Salmond then said, "It is now the common practice of this prime minister to mislead the country into military engagement and then to only devote a passing interest towards these crucial issues as his case crumbles before our eyes."
Salmon further said he had "no doubt" that Libya is going to be the "new crucial theater of engagement" once again.