'Out of sight, out of mind?' London activists protest Calais Jungle demolition
Published time: 29 Feb, 2016 16:54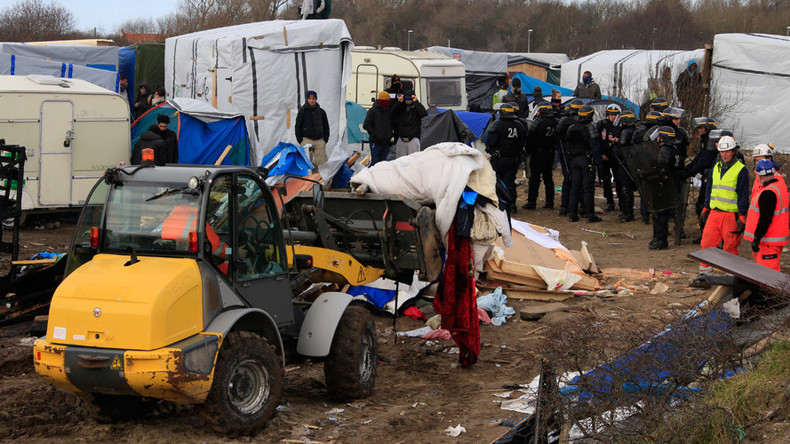 Protesters are gathering outside Downing Street on Monday night to demand a halt to the demolition of the 'Jungle' camp near the French port town of Calais.
On Monday morning French demolition workers began flattening settlements in the southern part of the camp, which houses thousands of refugees and migrants attempting to reach the UK.
A permanent hostel has been established nearby, where French authorities are encouraging those displaced by the demolition to resettle.
Monday's work is the first stage of the demolition, which was approved by the French courts on February 25.
Protesters will gather in London at 18:00 GMT on Monday to demonstrate against the measures and call on Prime Minister David Cameron to house more refugees in Britain.
Organized by Stand Up To Racism, the protest will show "opposition to the government's appalling stance towards refugees at the borders."
Weyman Bennett, Stand Up To Racism protest organizer, said: "David Cameron would like refugees to be out of sight and out of mind. But this will not solve the refugee crisis. We will be outside Downing Street tonight to send a message to Cameron not to bulldoze refugees' homes and to let them into Britain."
French authorities put riot police and water cannon on standby in the area. Demolitions have been met with opposition.
Some of the estimated 3,500 residents of the camp will be offered a place in the new shelters, and others will be offered transport to other areas of France where they will be given the option to start the process for seeking asylum in the county.
The senior government official for Calais, Fabienne Buccio, said police had been put in place to prevent disruption by British anarchist group No Borders, which intervened over the weekend.
"We are carrying out our orders so that … the destruction work can continue calmly and that the migrants are not under pressure from the No Borders activists," Buccio said.