Trident nukes vulnerable to cyber-attacks, underwater drones – ex-defense secretary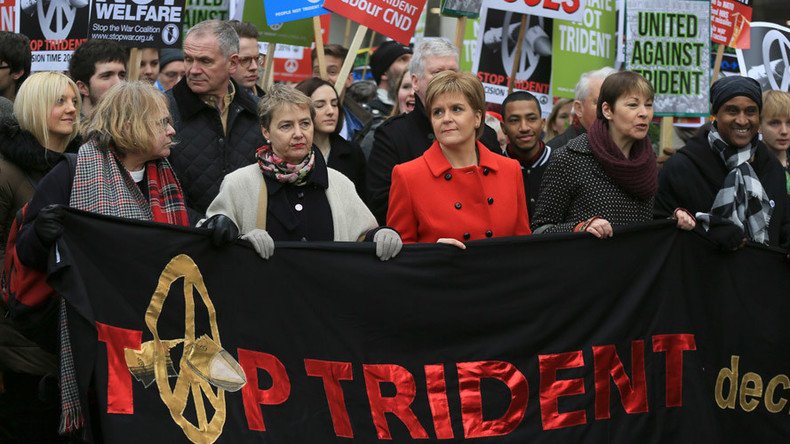 Former Defense Secretary Lord Browne has warned that Britain's Trident nuclear submarines will be vulnerable to cyber-attacks and underwater drones in the future, making them a source of 'instability.'
Speaking to the BBC on Sunday, the Labour peer called on supporters of Trident to admit that the world has "grown out" of nuclear weapons systems due to technological advancements.
Browne, who served as defense secretary under Prime Ministers Tony Blair and Gordon Brown, said technology is reaching a point where submarines will no longer be able to hide under the sea undetected.
He also addressed trade union concerns around scrapping Trident, saying that keeping jobs is the "worst possible reason" for building a nuclear military system.
His comments came one day after Britain's largest anti-nuke demonstration in a generation, in which 60,000 people marched in London against renewing nuclear weapons.
Browne told the BBC Trident submarines hiding beneath the surface of the sea could soon become vulnerable to detection.
"I believe that we ourselves and many other countries are developing systems which will potentially destroy in a relatively short period of time that aspect of not being able to hide boats in the sea," he said.
"They will not then be as invulnerable as they were. I'm not saying they would not have use, but we will not have the security that we believed that we had in submarines in years to come."
"Perhaps like many other weapons systems, we have grown out of the nuclear age and our own technology has defeated it," he added.
While Browne admitted he is not in favor of unilateral disarmament, he said Trident renewal should come under scrutiny by Parliament.
"What I am saying is we are suffering from the lack of any proper scrutiny of these weapon systems by our Parliament and by our decision-makers.
"We need to stop telling people who raise this issue that they are being either spurious or they are not making arguments that are in the interests of our security and they're a danger to our future security. They are the very opposite."
Browne also addressed concerns around job losses in the event the nuclear weapons system isn't renewed by Parliament.
"I understand that decisions have consequences for jobs, I do understand that, but candidly and with all due respect, the worst possible reason for building a military system like this is for jobs."
The impact of job losses is a key argument posed by trade unions in favor of renewing Trident. GMB Union Scottish secretary Gary Smith accused Labour leader Jeremy Corbyn of playing "student politics" on Friday after he announced he would address protestors at the anti-Trident rally.
"They want to cancel the renewal of Trident, whatever the consequences," he said.
"For these armchair generals playing their student politics as they sip lattes in Holyrood and Islington, none of this matters.
"Well, the GMB says you do matter and we're going to give these professional posers the fight of their lives."
You can share this story on social media: