Brexit would burden Brits with 'profound economic shock' – Osborne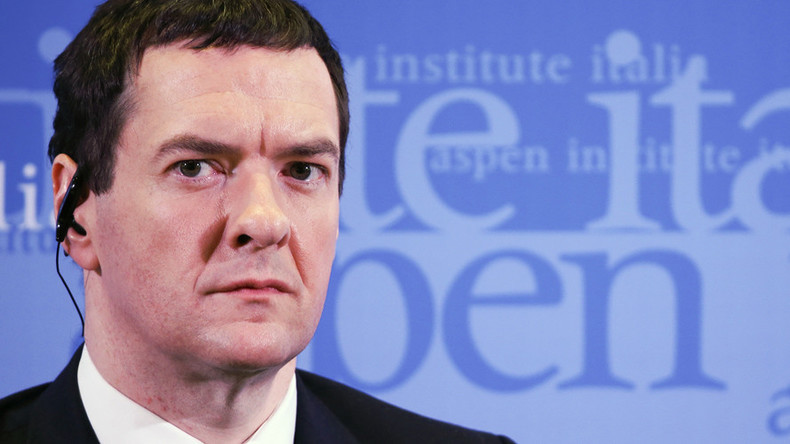 Sterling's decline this week is a stark reminder of the serious economic impact a Brexit could have on ordinary British people's lives, Chancellor George Osborne has warned.
Speaking ahead of a G20 meeting with finance ministers in Shanghai, Osborne said the termination of Britain's EU membership would burden Brits with a "profound economic shock."
"You've seen the value of the pound fall and it reminds us all that this is not some political parlor game," he told BBC political editor Laura Kuenssberg.
"This is about people's jobs and their livelihoods and their living standards and in my judgment, as chancellor, leaving the EU would represent a profound economic shock for our country."
Representatives of heavyweight economies across the globe are expected to warn against a Brexit, following discussions with Osborne on Friday. Finance ministers are meeting in Shanghai, where the chancellor will lobby for G20 states to air their concerns about Britain's potential departure from the EU. Although Britain's relationship with the bloc is not officially on the agenda for discussion, the chancellor is expected to broach the issue with his European colleagues.
'Strategic vote'
Osborne's warning comes as ex-Conservative Party leader Michael Howard declared his support for a Brexit.
In yet another blow to David Cameron's campaign to keep Britain in the EU, the high profile Tory branded the PM's negotiation efforts a failure.
Writing in the Daily Telegraph, he said this was the result of EU leaders who are so fixated on creating a European superstate that they can't imagine the softening of ties that bind members of the bloc.
He argued that a vote to leave the EU is the only means of shaking European leaders "out of their complacency."
"There would be a significant chance that they would ask us to think again," he wrote.
"When Ireland and Denmark voted to reject EU proposals, the EU offered them more concessions and, second time round, got the result they wanted."
Howard, who is a member of the House of Lords, led the Conservative Party between 2003 and 2005. He was subsequently replaced by Cameron, who was part of the Tories' research department and briefed Howard in advance of TV appearances.
Howard said his decision to rail against Cameron, whom he has admired for almost 25 years, came after "much heart searching."
"He has led our country with great distinction. It is not easy for me to be on the opposite side of the argument from him," he said.
"But we all have to make up our own minds on the path which we think will best serve the national interest."
Britain's future
The referendum on Britain's EU membership, scheduled for June 23, has been branded by some observers as a gambit by Cameron to diffuse divisions between the Tories' pro-EU and Euroskeptic factions.
The pound plummeted this week to its lowest level against the dollar in five years as the prospect of Britain leaving the EU sparked international debate. Betting markets say the odds that Brits will opt to leave the EU are two-to-one, while some polls indicate that voters are split evenly. Whatever the outcome of the referendum, analysts say a vote for a Brexit would have some short-term economic consequences.
Those who are lobbying for the UK to remain a part of the bloc say a Brexit could destabilize Britain's economy and endanger its security at a time when international terrorism and global economic instability are a serious concern. They argue a Brexit would not bolster Britain's sovereignty, but would weaken its leverage on the global stage by scrapping the UK's membership of a powerful political and economic union that can be better influenced from within than without.
Pro-Brexit campaigners argue a vote to remain in the EU will lead to the continued erosion of Britain's political and economic sovereignty as the bloc trundles along a path towards super-statehood. They say that the EU is incompatible with the UK's social and economic objectives. Euroskeptics also warn that Cameron's deal with Brussels relies too stridently on promises and leaves the EU predominantly unreformed.
You can share this story on social media: