'He's just jealous': Corbyn rebuffs Cameron's fashion advice
Published time: 25 Feb, 2016 17:31
Edited time: 25 Feb, 2016 18:33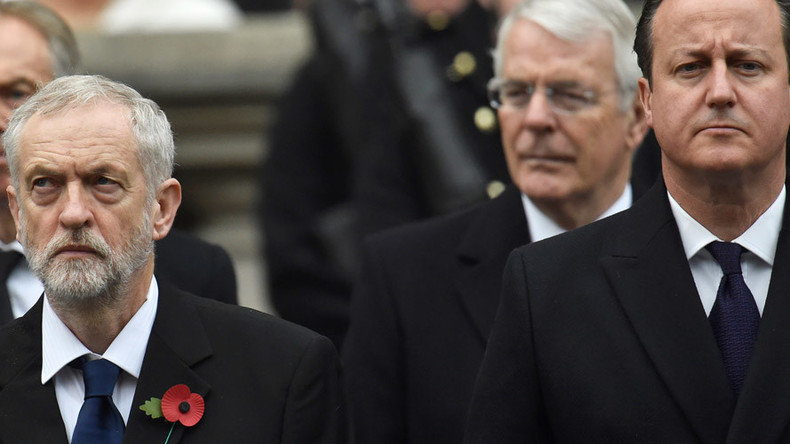 David Cameron is jealous that Labour leader Jeremy Corbyn shops in London's humble Holloway Road while the Tory prime minister must contend with the notoriously expensive Bond Street, Corbyn says.
In an unguarded moment ahead of a Sky News interview, Corbyn joked that he must now do up his tie to please the Prime Minister after Cameron attacked the North London MP's attire in parliament on Wednesday.
Corbyn said that the Tory leader was envious because he had to shop for suits in Bond Street, while the veteran socialist got his threads at the "great shopping center of the world: Holloway Road, N7."
In an exchange on the National Health Service (NHS) during Prime Minister's Questions (PMQs), a Labour MP shouted out to Cameron "like your mother," in an apparent reference to the Tory chief's mother recently signing a petition protesting cuts to local councils.
The incident caused embarrassment to the PM, who has presided over years of austerity while in office.
"Ask my mother? I think I know what my mother would say," Cameron responded.
"I think she would look across the dispatch box and she would say 'Put on a proper suit, do up your tie and sing the national anthem.'"
Some Labour MPs said that Wednesday's discussion marked a "new low" for PMQs.
Corbyn himself responded at the time by saying: "If we are talking of motherly advice, my late mother would have said, 'stand up for the principle of a health service free at the point of use for everybody,' because that's what she dedicated her life to, as did many of her generation."
Cameron has suffered from a number of his own fashion gaffes in the past, such as appearing in un-ironed shirts and wearing black leather work loafers without socks during foreign holidays.
"I'm not really interested in clothes," he told the Daily Mail in September of 2015. "Mainly I like wearing clothes that don't make me stand out.
Cameron previously admitted that his wife Samantha closely monitors his fashion sense.
"I tend to go for Marks & Spencer and Gap, and I do get put in the changing room at Gap and clothes are passed to me under the changing room door – a bit like feeding time at the zoo," he said.