EU eroding UK national security, sovereignty - ex-British Army general
Published time: 25 Feb, 2016 12:22
Edited time: 25 Feb, 2016 18:45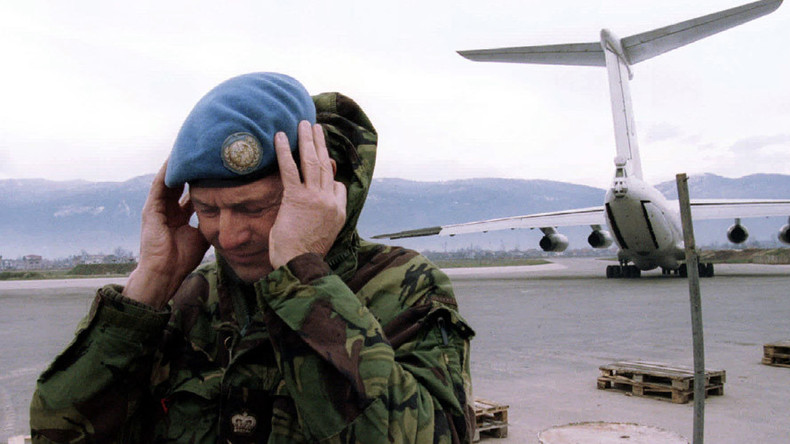 Britain's sovereignty and national security is being eroded by the European Union (EU), a former British Army general says.
Ex-Special Forces General Michael Rose's comments come a day after his signature was wrongly included on a pro-EU letter signed by a dozen military chiefs. The document had been orchestrated by Downing Street.
Rose said his views were very different to those who signed the letter, prompting Number 10 to admit that the general's name was incorrectly added due to an administrative failure.
"I happen to believe sovereignty and security are intrinsically linked and in recent years we've seen the EU erode our sovereignty," Rose told Sky News on Thursday.
He also questioned the decision to politicize senior military officers, telling Sky: "I have doubts about the wisdom of using military officers for a political campaign."
Another high-ranking ex-officer who added his signature to Downing Street's letter has claimed he felt pressured into signing.
Field Marshal Lord Bramall, a 92-year-old D-Day veteran, told the Telegraph he had been given a "fait accompli" and that it was "not the kind of letter" he would have come up with independently.
"It is not the kind of letter I would have originated myself, but the Prime Minister's Office presented me with a fait accompli, saying that many other senior officers had agreed to sign it," Bramall said on Thursday.
"What I find really unfortunate is that a really big decision that will affect the country for generations to come has descended into a messy political squabble."
The 'In' vote letter at the center of the controversy was published Wednesday and signed by senior military figures, including former Royal Navy admiral Sir Michael Boyce, the RAF's Air Marshal Sir Jock Stirrup and former head of the military General Sir Mike Jackson.
"We are proud to have served our country, and to have played our part in keeping Britain safe," the letter said.
"In the forthcoming referendum, therefore, we are particularly concerned with one central question: will Britain be safer inside the EU or outside it? When we look at the world today, there seems to us only one answer."